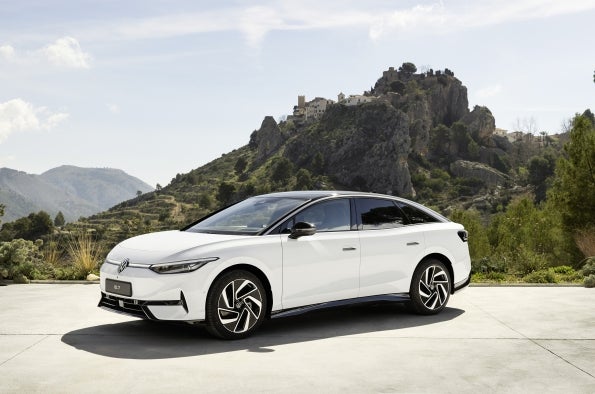 Harman, the automotive electronics subsidiary of Samsung Electronics, is to supply what it describes as a 'cutting-edge Harman Kardon sound system that combines advanced technology and iconic design' to VW's flagship ID.7
"Harman Kardon and Volkswagen have once again combined their expertise to deliver the best of both the driving and the listening experience. Harman Kardon's acoustics engineers worked hand-in-hand with the Volkswagen design team to create a sound system that is the perfect match for Volkswagen's first all-electric limousine," said Greg Sikora, Senior Director, Global Acoustic Systems Engineering at Harman.
Thanks to hundreds of hours of tuning by Harman Kardon engineers working closely with Volkswagen's teams, Harman says the sound system is finely adjusted to support superior audio performance, regardless of the road ahead. A 14-speaker, 16-channel set-up includes a subwoofer and centre speaker, combined with the 'Fraunhofer Sonamic Panorama algorithm', plus four different sound modes.
The result, it is claimed, is a truly thrilling and high-quality driving and listening experience for drivers and passengers alike.
The Harman Kardon sound system also features sound focus seat optimisation technology in which specific seats can be highlighted for the best listening experience, either all-seat optimisation, front seat only, driver only or rear seat only. And to give listeners the freedom to personalise their listening experience, the system includes a choice of four sound settings. Each, Harman says, accentuates a different sonic aspect, allowing listeners to adjust the system and enjoy varied sound reproduction that ensures a completely new perception of the sound:
Pure – a high-quality, neutral sound experience with nothing added or taken away, for an especially balanced, authentic, studio-like sound experience.
Relax – the soft playback setting, ideal for music that tends to play in the background, for a particularly relaxed and fatigue-free music experience.
Speech – perfectly suited to the clear reproduction of spoken content such as radio, podcasts and audio books, for comfortable listening with increased intelligibility even over a longer period of time.
Vibrant – voluminous sound reproduction for modern and dynamic music that is high in emotion and energy.