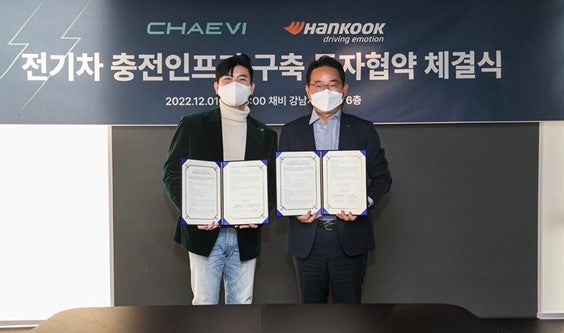 South Korean tyre manufacturer Hankook Tire & Technology has signed a preliminary agreement with local electric vehicle (EV) charging company Daeyoung Chaevi to strengthen their presence in the fast expanding EV aftermarket segment.
The two companies have agreed to jointly build infrastructure "that expands accessibility to EV chargers to cater for the accelerating growth of EVs in South Korea", according to a Hankook statement.
As part of the JV, Hankook would add the latest Chaevi EV charging stations to its network of tyre service outlets across South Korea, to make EV charging services more convenient for its customers. The two businesses also plan to improve client hospitality and expand their EV cooperation.
The tyre maker has 460 service centres across the country which provide standardised vehicle maintenance services. The company describes Chaevi as a leading provider of EV charging services with 4,000 stations, with plans to expand into foreign markets such as the Americas and Europe.