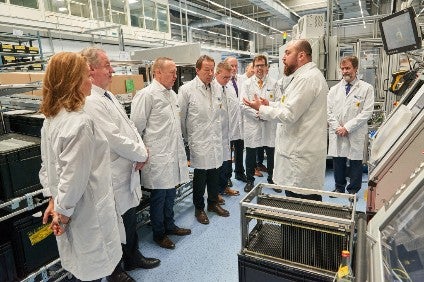 Interiors specialist Grupo Antolin has officially opened its new lighting factory in Bamberg, Germany.
The supplier said in a statement it wanted Bamberg to be its lead lighting electronics plant "for supplying components to automobile manufacturers and the rest of the company's plants".
The ultimate goal is "matchless customer service in terms of quality, deadlines, and costs".
The Bamberg facility includes a technical centre focused on ambient lighting technology, especially dynamic products. The centre supports other group operations in Mexico, the US, China, India, and Europe.
Bamberg employs 400 people (80 in the tech centre) and can produce 2,500 different items for the major premium carmakers.
Grupo Antolin has spent EUR11.5m building the facilities, which replace an old plant, and launching new lighting projects in Bamberg since 2018.
The supplier said it was committed to developing its lighting business unit which has "enormous potential" for future growth.
"Grupo Antolin can deliver an extensive and complete range of interior lighting… and do so on a global scale by leveraging our large industrial network," said chairman Ernesto Antolin at the factory opening.
"As part of our strategy to bring greater added value to our products, we are investing in developing new lighting solutions with an emphasis on electronics which can be combined with the decorative items that [we have] focused on over recent months. All this enables us to offer complete integration of lighting in our doors, instrument panels, overheads, and sun visors."
Grupo Antolin has been strengthening its lighting business worldwide as part of its investment plan. Last year it unveiled its new Guangzhou plant specialising in lighting for China following investment of EUR2.6m and recently agreed a partnership with China's HiRain group to develop new lighting products for the world's largest car market.
The lighting business unit boosted sales in 2018 8% year on year to EUR349m and this year will launch 30 new supply programmes worldwide.