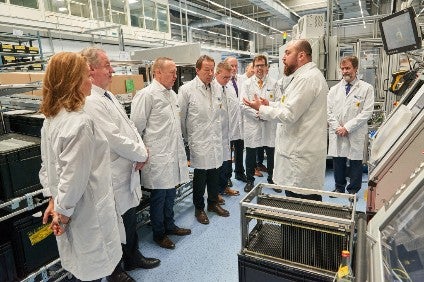 Interiors supplier Grupo Antolin has joined Car Connectivity Consortium (CCC) to further develop its car access systems.
CCC is a multiple industry organisation developing global standards and advanced technology for smartphone to car connectivity products.
Grupo Antolin will thus participate in projects implementing the digital key, the system standard which allows consumers to use mobile devices to access vehicles. The standard enables engine start authentication and permits car sharing.
It allows mobile devices to securely store, authenticate and share digital keys.
Grupo Antolin develops car access using technology such as low frequency for existing systems to ultra-wideband for current digital key standard.
The supplier's products include antennas integrated in headliner substrate or centre console, sensors in door handles or instrument panel plus electronic control units which run the systems.
The supplier claimed to be "in a unique position to design and seamlessly integrate such products in car interior trim components".
CCC member companies include smartphone and vehicle manufacturers, tier one suppliers, silicon chip vendors and security product suppliers.
Grupo Antolin launched its electronic systems business unit in 2020 to improve its electronic capability and become a provider of interior technology products.
Antolin has also increased collaboration with AED Engineering which specialises in electronics and development of ultra-wideband products.
The Shanghai Antolin-NAEN Automotive Electronics joint venture was launched in 2021 to develop body control electronics and launch new versions of passive entry, passive start (PEPS) systems worldwide.