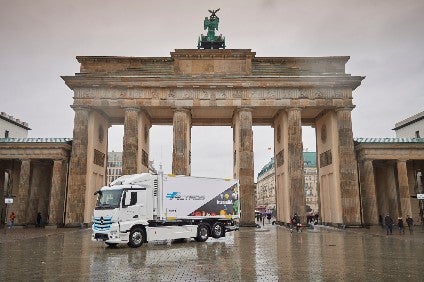 Daimler's Mercedes-Benz Trucks has delivered a fully electric eActros for on-road testing to EDEKA, the German retail association which will test the 25-tonne truck with refrigerated body for a year in Berlin, using it to transport fresh, temperature-sensitive foodstuffs.
The daily route from the warehouse in Gruenheide on the outskirts of the German capital to various supermarkets in the city centre and surrounding areas is between 150 and 300km (90-200 miles). The vehicle will operate in a double shift pattern. The load is up to 10 tonnes. During loading and unloading, the vehicle is charged to ensure that the total range (up to 200km/120 miles on a single charge) is optimised.
EDEKA is one of 20 customers from various industries which are now integrating the Mercedes electric truck into their fleets. Each will trial a near-production version of either the 18 or 25-tonne variant in real-world operations and determine its suitability for their daily use.
"The aim of Mercedes-Benz Trucks is to make emission-free and quiet driving a reality in cities from 2021, also with [production] heavy-duty trucks – and all of this as economically viable as with a diesel truck," Daimler said.
The test series consists of two phases, each with 10 customers over about two years. The development and testing in short-radius distribution operations is sponsored as part of the Concept ELV" project by the German federal ministry for the environment (BMU) and ministry for economic affairs and energy (BMWi).
Andreas von Wallfeld, marketing, sales and services chief at Mercedes-Benz Trucks said: "We are very thankful to the retail association for their active support. Our previous results from numerous tests have been nothing less than very positive. The 200km range, for example, is totally realistic, and the cooling and air conditioning systems have performed well, even during this year's record hot summer."
Rolf Lange, head of corporate communications at EDEKA, said: "We are already committed to reducing emissions in many areas – particularly when it comes to logistics. This is where electric mobility comes in as it presents many opportunities but also poses several challenges. We look forward to gaining valuable experience with this on-road test in Berlin."
The first eActros of the 'innovation fleet' has been in service at a customer since September. The rest of the first phase of vehicle hand overs will be completed by the end of the year. All test customers operate in short-radius distribution and use the eActros for tasks which would otherwise be carried out by conventional diesel vehicles – the customers cover a broad spectrum of different sectors and categories. Sectors include food, building and materials supply while truck bodies include refrigeration units, dry containers, silos and tarpaulin covered units.
The eActros drive axle is based on the ZF AVE 130, proven in M-B hybrid and fuel cell buses but with major modifications for the truck.
Drive comes from two 126kw electric motors near the wheel hubs on the rear axle with maximum torque of 485Nm each. Downstream of the transmission that is 11,000 Nm each and on par with a diesel truck. The maximal permitted axle load is the usual 11.5 tonnes. Energy is stored in lithium-ion batteries with a capacity of 240kWh. Depending on the available charge, full charging takes between two and 11 hours (at 150kw or 20 kW).
Daimler launched its first fully electric series production truck last year: the lightweight Fuso eCanter. The first Mercedes-Benz eCitaro will be delivered at the end of the year and will go into operation in 'customer-related test-driving'.
Mercedes-Benz Vans has offered the eVito van since November 2017 with first deliveries due soon and the eSprinter to follow in 2019.