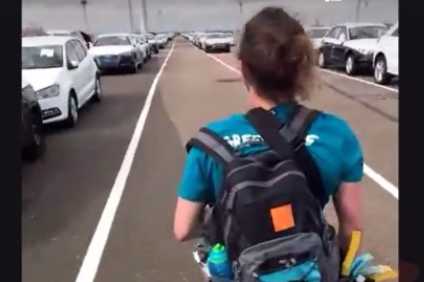 Greenpeace activists have boarded a car transporting ship at a UK port – Sheerness in Kent – and demanded that its shipment of VW diesel cars be sent back to their origin, Germany.
Reports say the ship, carrying a consignment of over 1,000 Volkswagen cars, has been unable to unload its cargo because of the protesters.
Greenpeace said 25 of its volunteers in kayaks and boats drew up alongside the huge car carrier miles out at sea at 9am today and that two are now hanging from the 27m high unloading door.
"They won't give up until VW commits to send its toxic cars away from the UK and ditch diesel for good," the Greenpeace statement said.
Simultaneously, 41 Greenpeace activists scaled fences at the port in Kent and gained access to the vehicle park where several thousand VW diesel cars are awaiting distribution to suppliers. They claim to have confiscated scores of ignition keys.
Peel Ports Group, which owns the Sheerness site, said protesters had illegally entered secured areas of the port and it was working with police, Greenpeace and VW to resolve the situation.