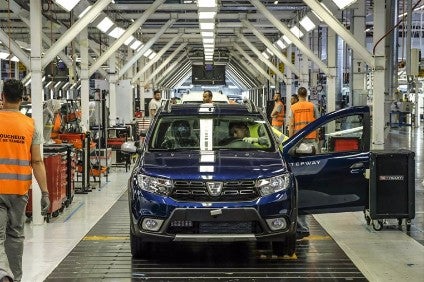 Romania's economy minister reportedly has said the flexible work programme at Dacia must be extended in a move to keep jobs amid difficulties caused by the pandemic, semiconductors shortage and the war in Ukraine.
The ministry is trying to find ways to support Dacia, which has recently had to reduce work hours and suspend certain operations, the ministry said in a press release cited by SeeNews.com.
"The automotive industry is directly affected by the military conflict in Ukraine, but also by the semiconductor crisis, by a shortage of critical raw materials, the pandemic and rising energy prices, but I am glad that Automobile Dacia and Renault Group have made efforts to maintain the company's activity," Spataru reportedly said during a visit to Dacia's plant in Mioveni.
SeeNews.com said Dacia introduced the flexible work programme in August 2020, soon after the government passed an emergency decree making it possible for companies to legally pay staff for shorter working hours to preserve jobs.
According to reports in local media, 500 Dacia employees planned to protest at the government building on Wednesday, demanding higher pay, SeeNews.com said.