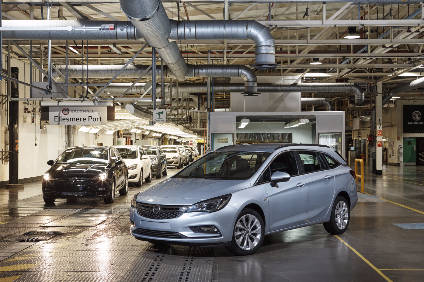 It is emerging that General Motors' European operations are being hard hit on the bottom line by the adverse economic consequences of the UK's decision to leave the EU. The sizeable headwinds will make it difficult for GM to reach breakeven in Europe this year, something it said it was on track to do at the end of the first half.
The main problem for GM is the impact of the pound's loss of value since the June referendum vote – it has dropped over 20% against the dollar and around 15% versus the euro. However, sterling's drop against the euro is larger – well over 20% – when compared with a year ago. GM has already raised UK prices by 2.5% on 1 October and is looking to cut costs in the region further. The net impact of sterling's decline – after all GM cross-border movements of finished vehicles and parts in Europe are taking into account – is heavily negative for GM in Europe.
Chuck Stevens, GM's CFO, told analysts in a post-results third quarter earnings call that GM is allowing for an adverse Brexit impact of around US$400m in the second half of the year.
"We continue to face headwinds related to the UK referendum. And as all of you know, the British pound continues to fall to lows not seen in decades," he said.
"We continue to estimate that Brexit could have a negative impact of up to $400 million in the second half of 2016, which includes over $100 million already incurred in the third quarter. The team continues to remain focused on making progress on our turnaround plans in Europe, and we will continue working to partially offset these headwinds to the best of our ability."
GM operates one car manufacturing plant in the UK at Ellesmere Port, making the Vauxhall/Opel Astra. It also makes vans at a plant in Luton.
The Astra model is also made at a plant in Poland (Gliwice), inside the single market and inside the eurozone. The UK plant is currently lead plant for the Astra model in Europe, but major components are imported from plants in the eurozone with UK local content estimated at just over 20%.