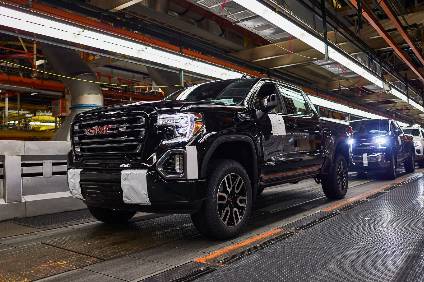 General Motors says it is making a new round of upgrades and investment to its Fort Wayne Assembly plant to further increase production of the Chevrolet Silverado 1500 and GMC Sierra 1500 pickups – especially crew cab models.
Some USD24m will be invested to further enhance the plant's conveyors and other tooling to support the increased production. The work will be completed this summer. With the announcement, GM says it has invested more than USD1.2bn in the plant since 2015.
"We are building Chevrolet and GMC crew cab pickups at record volume and mix levels to meet customer demand and the $24 million investment will allow us to build even more," said Mary Barra, GM chairman and CEO. "The team here at Fort Wayne has done an outstanding job helping us satisfy customers throughout this launch. Our product ramp-up was very smooth and the quality has been exceptional. Crew cab sales have been very strong, and we are expanding customer choice with new models, more cab choices and innovative new powertrains."
Combined sales of the Chevrolet Silverado 1500 and GMC Sierra 1500 crew cab pickups, which launched in the second half of 2018, were up 20 percent in the first quarter of 2019 versus a year ago. GM is projecting another significant increase for the second quarter. Customer deliveries of the double-cab models built in Fort Wayne began during the first quarter.
Since 2009, GM maintains it has invested USD23bn in US manufacturing – more than one-quarter of every dollar spent by automakers, it claims.
President Trump has criticised automakers who have invested heavily in low-cost Mexican manufacturing capacity (and just announced new tariff threats) for vehicles sold in the US. Automakers have been especially keen to emphasise US investments.