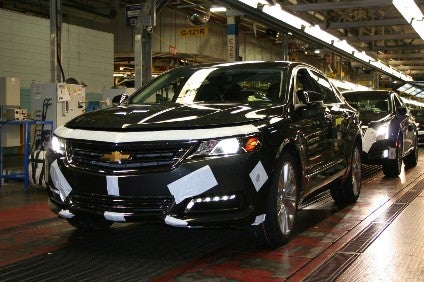 General Motors is expected to announce today (26 November) the closure of all manufacturing operations in Oshawa, Ontario, affecting thousands of high-paying jobs, local media is reporting.
The plant dates back to 1907 and is located in the city of about 159,000 people located about 60km (35 miles) east of Toronto.
Until 1969 it was also GM's main source plant for right hand drive B-body models shipped CKD, SKD and complete to British Commonwealth countries which levied lower import duty on vehicles from Canada than from the US.
Sources told CTV Toronto the Oshawa closures were part of a global restructuring aimed at moving toward lower emission vehicles.
Plants in the US are also expected to close although other GM operations in Ontario appear to be safe, the TV channel said.
GM Canada R&D facilities plus sales, marketing and distribution operations are based in an Oshawa office near the doomed plant and Ontario province itself is, as just-auto learned on a fact-finding visit three years ago, a hive of automotive activity on multiple levels with strong government support.
In a statement to CTV Toronto, GM spokesman David Paterson said the company would not be commenting on "speculation".
The TV channel report said there are currently about 2,500 union jobs and roughly 300 salaried employees in the Oshawa area. GM employs thousands more in Ingersoll, Markham and St. Catharines.
Unifor, which represents the hourly workers, told CTV on Sunday it "does not have complete details" of the announcement but has "been informed that, as of now, there is no product allocated to the Oshawa Assembly Plant past December 2019."
A just-auto analyst, new and future products editor Glenn Brooks said: "[This is] not a shock as there has been no future product allocated to this plant for quite a while.
"Two cars are built there on Oshawa No.1 line and two trucks are assembled on the No.2 line."
A union statement said: "Based on commitments made during 2016 contract negotiations, Unifor does not accept this announcement and is immediately calling on GM to live up to the spirit of that agreement."
"Unifor is scheduled to hold a discussion with General Motors tomorrow and will provide further comment following the meeting," the union added.
Federal conservative leader Andrew Scheer tweeted his "heart goes out to all those affected by this devastating decision", CTV reported.
A source with the federal government confirmed to CTV News it was aware of the situation and concerned about Monday's announcement.
CTV noted GM's history in Canada dates back more than 100 years. GM merged with McLaughlin Buicks in 1918 and the Oshawa assembly plant opened in 1953.
By the early 1980s, more than 23,000 workers were employed at GM in Oshawa.
The Oshawa Assembly plant recently became the only factory in North America capable of building both cars and trucks.
Oshawa mayor John Henry told CTV Toronto Oshawa's economy had diversified so that it was no longer dependent on the auto industry.
Last Friday, the axe fell on more jobs at a former GM plant in England now owned by PSA.
The automaker announced a plan for 241 job losses at the Ellesmere Port Astra manufacturing plant near Liverpool.
Last year the plant dropped a shift (it is now single shift) and shed 400 jobs.
Vauxhall said it had entered a 45-day consultation period with labour unions and employee representatives to propose a 'restructuring' to align headcount and production costs with the 2019 production forecasts and plans.