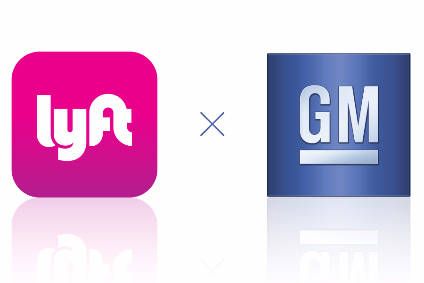 Under a new initiative between the two partners, e-hailing Lyft drivers will be able to rent cars from General Motors.
Lyft and General Motors have announced the launch of their 'Express Drive' short-term rental program exclusive to the Lyft platform. The program will make cars available to Lyft drivers at "affordable rates with insurance and maintenance included", GM said.
The launch of Express Drive comes two months after GM entered into a strategic alliance with Lyft to develop an integrated on-demand network of autonomous vehicles.
GM said that Express Drive begins later this month in Chicago and will soon roll out to additional cities including Boston, Washington D.C., Baltimore and others.
With Express Drive, the more you drive, the less you pay. Express Drive will start at US$99 per week including insurance and maintenance. When drivers complete 65 rides a week in Chicago, drivers will be able to access a vehicle at no weekly rental cost. In addition to affordability, Express Drive offers flexible terms for drivers who can rent cars on a weekly basis for up to eight weeks at a time.
GM says there is a 'definite need for access to high-quality GM cars for Lyft'. In Chicago alone, there were 60,000 people who applied to drive on the Lyft platform, but did not have a car that qualified. Express Drive directly addresses this need for millions of Americans who do not have access to a qualifying vehicle, GM maintains.
In Chicago, Express Drive will provide access to Chevrolet Equinox crossovers equipped with OnStar, additional connectivity features as well as ample cargo space and flexible seating for up to five.
John Zimmer, Lyft's president and co-founder, said: "Launching Express Drive is another way we treat drivers better, in addition to Power Driver Bonus, tips and same day payouts. We're making sure everyone who wants to be a Lyft driver can be, by providing ultimate flexibility at incredible rates."
GM President Dan Ammann said, "We're very pleased with how quickly the GM and Lyft team collaborated to create the Express Drive program, which we will be implementing using our Maven mobility infrastructure."
GM's move comes as vehicle makers look to strategically address the changing market for mobility services, especially in urban areas. Increasingly, they are looking to be involved in the burgeoning market for car sharing, a development that potentially threatens the traditional car ownership model.
Earlier this year, GM announced a long-term strategic alliance with Lyft to create an integrated network of on-demand autonomous vehicles in the US. GM said it will invest US$500m in Lyft's latest funding round to "help the company continue the rapid growth of its successful ridesharing service". In addition, GM will hold a seat on the company's board of directors.