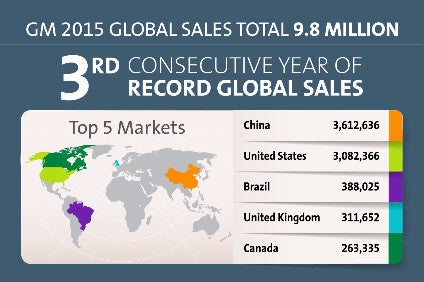 General Motors' global sales reached 9.8m vehicles in 2015, up 0.2% year on year, for the company's third consecutive year of record sales.
"GM continued to grow in 2015 as our focus on the customer and successful new vehicle launches more than offset the challenging conditions in South America and the curtailment of our presence in certain markets such as Russia," said GM president Dan Ammann.
Deliveries in North America rose 6% in 2015 to 3.6m cars, trucks and crossovers. In the US, GM claimed to have grown its retail sales faster than any other automaker.
In China, GM and its joint ventures delivered a record 3.6m vehicles, up 5% after their range expanded through the introduction of 12 new and refreshed models. SUV deliveries were up 144%, led by new models such as the Buick Envision and Baojun 560. The SAIC JV has just opened a new Cadillac assembly plant.
In 2015, General Motors' cars, trucks and crossovers were leading automotive sales in China and its North American and South American regions.
Global Sales Highlights (vs 2014)
Chevrolet grew retail market share in the U.S. faster than any full-line automotive brand, with total sales up 5% to more than 2.1m cars, trucks and crossovers. Chevrolet sales in Canada increased 3% while sales in Mexico went up 18%. Combined sales for the brand in North America were up 6%.
Buick set a global sales record for the third consecutive year, driven by record sales in China and record crossover deliveries in the United States. Total sales surpassed 1.2m vehicles.
Cadillac grew globally by 8%, driven by record sales in China and the strong growth in SRX and Escalade deliveries in the U.S.
GMC continued to grow and achieved its 6th consecutive year of sales gains. Based on new and significantly refreshed products, deliveries grew 11% to 680,000 vehicles.
Opel/Vauxhall achieved its best sales result in four years delivering more than 1.1m vehicles despite its strategic departure from the Russian market. Share of the total European vehicle market increased for the third year in a row to nearly 6%.
In the US, GM's total sales were up 5% supported by the momentum of vehicles like the Chevrolet Silverado and Colorado, the GMC Sierra and record crossover deliveries. Retail deliveries increased 8%.