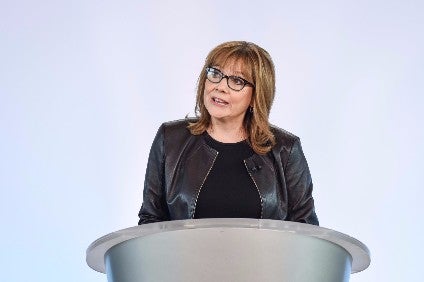 GM said first-quarter earnings were driven by strong price and mix performance in North America, strong credit and residual value performance at GM Financial, and the industry recovery in China. Revenue was flat but profits surged.
"The company is highly confident in its full-year 2021 guidance outlined earlier this year as it works to manage through the semiconductor shortage, which is impacting automakers globally. Based on information available today, the company expects to be at the higher-end of the EBIT-adjusted range," it said in a statement.
First quarter revenue was US$32.5bn, net income $3.0bn and EBIT-adjusted $4.4bn. Q1 2020 revenue was $32.7bn, net income $0.3bn and EBIT adjusted $1.2bn.
The net income margin was 9.3% (0.9%), and EBIT-adjusted margin 13.6% (3.8%).
Automotive operating cash flow was negative $1.1bn (+$0.3bn) and adjusted automotive free cash flow negative $1.9bn (-$0.9bn).
EPS-diluted was $2.03 ($0.17) and EPS-diluted-adjusted $2.25 ($0.62).
GM North America EBIT-adjusted was $3.1bn ($2.2bn) and the EBIT-adjusted margin 12.1% (8.5%).
GM International EBIT-adjusted was $0.3bn (-$0.6bn) including China equity income of $0.3bn (-$0.2bn).
GM Financial EBT-adjusted was $1.2bn ($0.2bn)
2021 guidance
Full-year EPS-diluted of between $4.28 and $5.03, and EPS-diluted-adjusted of between $4.50 and $5.25.
Full-year net income of between $6.8bn and $7.6bn, and EBIT-adjusted of between $10.0bn and $11.0bn.
Six months ending 30 June, 2021 net income of c.$3.5bn, and EBIT-adjusted of c.$5.5bn.
In a letter to shareholders, GM CEO Mary Barra said: "These strong results demonstrate once again the underlying strength of our business, especially in North America and China, and at GM Financial. We continue to execute our strategy and make significant progress on our transition to an all-electric future with the growth opportunities it creates.
"The speed and agility of our team are front and centre as we move from managing through a pandemic to managing the global semiconductor shortage. This remains a challenging period for the company as we emerge from 2020, but the team continues to demonstrate its ability to manage complex situations.
"Our supply chain and manufacturing teams are maximising production of high-demand and capacity-constrained vehicles. Our engineering teams are creating effective alternative solutions, and our sales teams, together with our dealers, are finding creative ways to satisfy customers despite lean inventories.
"While we will have production downtime in the second quarter, we expect to have a strong first half, with EBIT-adjusted of around $5.5bn. We are also reaffirming our guidance for the full year, and based on what we know today, we see results coming in at the higher end of the $10bn to $11bn EBIT-adjusted range we shared earlier this year."