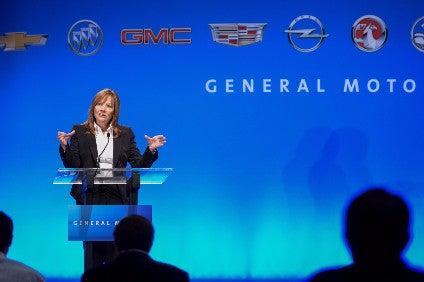 General Motors has reported a 42% decline to second quarter profits as it was impacted by a declining US vehicle market and restructuring charges related to the sale of its European division and withdrawal from the Indian and South African markets.
The company earned a profit of US$1.66bn in the second quarter, some 42.1% down on the US$2.87bn it made in the same period of last year. GM said that restructuring charges were US$770m on the loss from sale of Opel/Vauxhall and US$600m in charges related to the decision to stop selling vehicles in India and to sell its operations in South Africa.
However, GM said that net income from continuing operations was US$2.4bn, down 11% on the same period of last year.
GM said its global Q2 revenue (leaving its European operations outside the calculation) was US$37bn, a 1.1% decline on last year.
GM CEO Mary Barra stressed the importance of restructuring measures to improve profitability. "Disciplined and relentless focus on improving our business performance led to a strong quarter and very solid first half of the year," she said in a statement. "We will continue transforming GM to capitalise on growth opportunities and deliver even more value for shareholders."
North American results were strong, in spite of a slowing US market. In North America GM said that improved mix and cost efficiencies largely offset lower volumes and drove strong EBIT-adjusted (US$3.5bn versus US$3.7bn last year)and an EBIT-adjusted margin of 12.2 percent. South American operations were at breakeven and the nternational operations unit posted a small profit of US$300m.