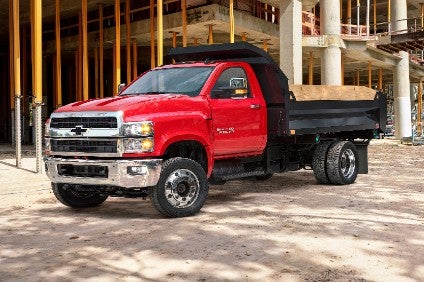 General Motors said strong 2018 full year earnings were driven by strong pricing, surging crossover sales, growth of GM Financial earnings, "disciplined" cost control and the successful launch of the company's all-new full-size pickup trucks: the Chevrolet Silverado and GMC Sierra.
Full year operating income was US$8.1bn (a 2,347% improvement!) while EBIT-adjusted $11.8bn was off 8.3%.
EBIT-adjusted margin of 8.0% was down 0.8 percentage points.
North America EBIT-adjusted of $10.8bn was down from $11.9bn in 2017.
EPS was $5.58 (up 2,436%).
"GM delivered another strong year of earnings in a highly volatile environment in 2018. We will continue to make bold decisions to lead the transformation of this industry and drive significant shareholder value," said CEO Mary Barra, under fire recently for GM's latest round of US and Canada factory job cuts and 'non-allocations' (but none in China or Mexico, as US president Donald Trump has observed on Twitter).
Fourth-quarter 2018 results were EPS of $1.40 (up $4.86), revenue of $38.4bn, up 1.8%, and operating income up $7bn to $2.1bn.
GM booked $2.5 billion in costs primarily related to restructuring in 2018.
GM Financial generated 2018 full-year earnings before tax (EBT) of $1.9b, up 58.3% compared to 2017, on revenue of $14bn. In the fourth quarter, it posted EBT of $400m on revenue of $3.6bn and paid GM a cash dividend of $375m.
In the U.S., GM delivered nearly 3m vehicles, helped by crossover sales that topped 1m for the year. Average transaction prices were a record of nearly $36,000, while incentives as a percent of ATPs fell 0.3% year over year. Combined sales of the Chevrolet Silverado and Colorado, and the GMC Sierra and Canyon, rose 3% versus 2017.
In the midst of a softening market in China, GM delivered 3.65m vehicles. Cadillac deliveries in China passed 200,000 units, rising 17.2% for the year, while the brand's global sales increased 7.2%.
In 2018, the company sold 8.4m vehicles globally.
"We navigated significant headwinds in 2018 to deliver another year of strong results, demonstrating the earnings resiliency of this company. The actions we've been taking to shape a stronger, more profitable portfolio of businesses position GM for long-term success," said CFO Dhivya Suryadevara.
Shares of GM were up 4.22% in premarket trading to $40.95, seekingalpha.com reported, noting that earnings had beaten analysts' estimates.