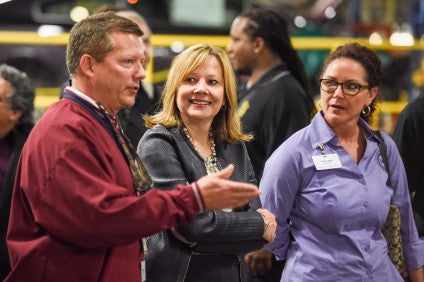 General Motors has more than doubled its profit in Q1 from a year ago as it continued to benefit from strong sales in North America as well as an improvement in Europe.
GM earned US$1.95bn in the first quarter, or US$1.24 per share, versus $US0.9bn in the same quarter last year. First quarter revenue was US$37.3bn, up 4.4% from $US35.7bn last year, beating analyst estimates of around US$34.9bn.
The earnings increase was driven by improved year-over-year results in all reporting segments, including breakeven performance in Europe.
"We're growing where it counts, gaining retail share in the U.S., outpacing the industry in Europe and capitalising on robust growth in SUV and luxury segments in China," said GM Chairman and CEO Mary Barra. "This strong quarter also reflects the excellent progress we're making to improve results in our more challenged global markets. Importantly, the continued success of our core business is enabling us to invest in advanced technology and innovations that will help shape the future of personal mobility."
GM said the North America segment delivered EBIT-adjusted US$2.3B (a first quarter record), while GM also said Europe was a win with a break-even EBIT-adjusted tally (versus a US$200m loss in the same quarter last year). Once again, strong demand for trucks, SUVs, and crossovers more than offset some weakness with passenger cars, GM said.
First quarter 2016 EBIT-adjusted results included the impact of US$0.3bn restructuring costs, primarily in North America, compared to US$0.1bn in restructuring costs a year ago.
Net revenue during the quarter was US$37.3bn compared to US$35.7bn in the first quarter of 2015. Holding exchange rates constant, net revenue was US$2.9bn higher than the first quarter of 2015.
"The quarter was a great start to a year in which we anticipate strong growth in earnings and free cash flow," said Chuck Stevens, GM executive vice president and chief financial officer.