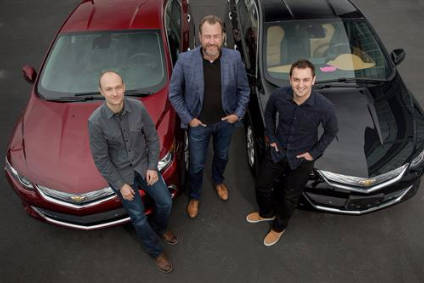 General Motors and Lyft – a rideshare start-up – have announced a long-term strategic alliance to create an integrated network of on-demand autonomous vehicles in the US.
GM will invest $500 million in Lyft's latest funding round to "help the company continue the rapid growth of its successful ridesharing service". In addition, GM will hold a seat on the company's board of directors.
"We see the future of personal mobility as connected, seamless and autonomous," said GM President Dan Ammann. "With GM and Lyft working together, we believe we can successfully implement this vision more rapidly."
John Zimmer, president and co-founder of Lyft, said: "Working with GM, Lyft will continue to unlock new transportation experiences that bring positive change to our daily lives. Together we will build a better future by redefining traditional car ownership."
The announcement comes in the week of the CES show in Las Vegas which will put the spotlight on new mobility solutions as well as personal and vehicle connectivity. Auto firms are coming under increasing pressure to develop strategies that address the rapidly changing mobility landscape and associated advanced technologies. They carry automotive supply-chain and manufacturing expertise, but new entrants, such as high-tech companies Apple and Google, see themselves as more agile and suited to rapidly changing market needs. Working together to blend these different attributes for new mobility solutions is one obvious approach, although who ultimately wields the power in such collaborations may be unclear for some time.
Karl Brauer, senior analyst at Kelley Blue Book's KBB.com, noted that automakers are now having to look at partnerships with firms outside of the automotive space.
"The GM-Lyft alliance follows news of a Ford-Google alliance, both of which are only the beginning of a series of automaker-tech tie-ups we'll see in the coming months," he said. "The rapidly-shifting nature of personal transportation has traditional car companies scrambling to position themselves for an uncertain future. It's also creating an unprecedented opportunity for technology companies, assuming they can master autonomous technology while finding an effective partner to provide the hardware."
Key elements of the GM and Lyft alliance include:
Autonomous On-Demand Network: The joint development of a network of on-demand autonomous vehicles will leverage GM's deep knowledge of autonomous technology and Lyft's capabilities in providing a broad choice of ride-sharing services.
Rental Hub: Beginning immediately, GM will become a preferred provider of short-term use vehicles to Lyft drivers through rental hubs in various cities in the US.
Connectivity: Lyft drivers and customers will have access to GM's wide portfolio of cars and OnStar services, leveraging two decades of experience in connectivity. This will create a richer ride-sharing experience for both driver and passenger.
Joint Mobility Offerings: GM and Lyft will also provide each other's customers with personalized mobility services and experiences through their respective channels.