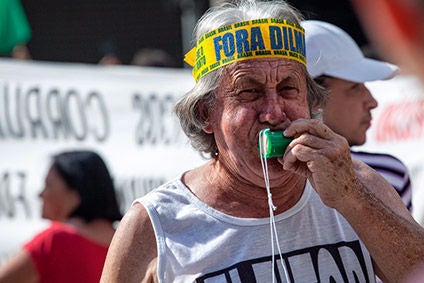 The continuing depressed outlook for Brazil's economy is leading General Motors to reconsider investment plans for the country, according to an interview with GM President Dan Ammann.
Brazil's economy is forecast to contract by 3% in 2016 on top of a similar drop to GDP posted in 2015. The country's economy has been buffeted by plummeting international commodity prices, but some analysts say the government's management of the economy has made things worse. The country's national debt has soared over the past twelve months.
"I hope to see political and economic advances in the next six to 12 months, which would allow us to stick to our investment plan," Ammann told the Estado de Sao Paulo newspaper. Otherwise, GM would "re-evaluate," he added.
General Motors said last year that it is increasing spending in Brazil to US$3.84bn (R$ 13bn) in the 2014-2019 timeframe. An additional US$1.6 was earmarked for new products and technology in Brazil through to 2019.
Ammann also told the newspaper said it was too early to say whether GM will close any of its five plants in Brazil, two of which make components for vehicles produced at the other three. He acknowledged the long-term market potential ahead for Brazil, but said that "a big change" is needed to reach that potential.
"The important question is to know when we will see the stability that allows us to continue investing. We are worried because the environment is unstable and the outlook is uncertain for the next few years," he said.
Vehicle sales in Brazil were 26% down in 2015, with a further market downturn expected in 2016.
Other OEMs are also thought to be evaluating their plans for Brazil. JLR recently announced that it will delay the start of production at its Brazilian plant due to the country's economic problems.