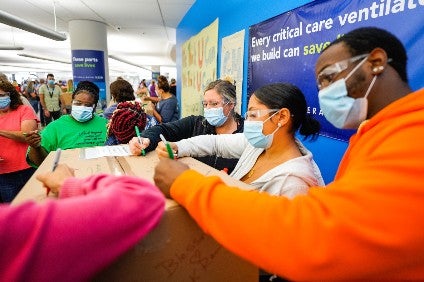 General Motors and Ventec Life Systems have delivered the 30,000th V+Pro critical care ventilator to the US Department of Health and Human Services and GM has exited the joint venture set up during the COVID-19 pandemic.
The two companies collaborated to rapidly scale up production of critical care ventilators. In one month, they went from an introductory phone call to delivering the first units. The full federal government order was completed in 154 days at the rates of one ventilator completed about every seven minutes.
GM now has formally turned over operational control of its Kokomo ventilator manufacturing operation to Ventec which will produce there, as well as in Bothell, Washington, as demand continues.
"Our drive to put critical care ventilators into production was fueled by thousands of people at GM, Ventec and our suppliers who all wanted to do their part to help save lives during the pandemic," said Mary Barra, GM chairman and CEO. "It was inspiring to see so many people achieve so much so quickly."
The collaboration between Ventec and GM began with conference calls initiated by stopthespread.org on 17 and 18 March. The first units were delivered to hospitals in Illinois.