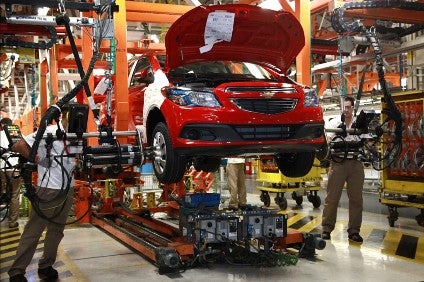 General Motors plans to bring its 'downsized' international operations under a single mangement structure from the beginning of next year, according to a company statement.
GM said it would combine its south east Asian, Indian and Oceania operations with its South America operations under a single umbrella company headed by Barry Engle, currently GM group executive vice-president and president of GM South America.
He will be based at the company's global headquarters in Detroit and will report directly to company president Dan Ammann.
The automaker said it lost money on its Asia and South America operations, excluding China, last year.
The company plans to focus on operations that are profitable or likely to become profitable in the medium and long term, even if this means cutting back in some of the world's fastest growing markets.
GM has cut its international operations significantly in the last five years, including the closure of assembly plants in Indonesia and Australia, the reduction in the number of models produced in Thailand, the sale of its production and distribution operations in Europe and Africa and the planned exit from India at the end of the year.
Stefan Jacoby, the current executive vice-president of GM's International Operations, is due to retire at the end of the year. He told Reuters GM's strategy is designed to "refocus the company's traditional business operations and free up the resources and financial power needed to step into the next chapter of the automotive industry".
The company sees the switch to electric powertrains as the next major revolution in the automotive industry.
On Monday, it announced plans to add 20 new EV and fuel-cell models to its global line-up by 2023.