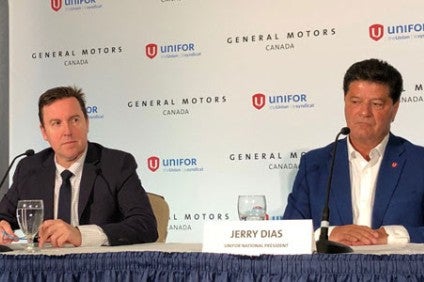 General Motors Canada and auto workers union Unifor announced they had reached a "Transformation Agreement" to "transition the GM Oshawa Assembly operations to parts manufacturing and advanced vehicle testing". The deal follows GM's November 2018 announcement it would idle five North American factories: Detroit-Hamtramck; Lordstown, Ohio; Oshawa, Ontario; Warren Transmission; and a transmission plant in the Baltimore area, putting some 6,000 factory jobs on the chopping block.
Of those there were currently about 2,500 union jobs and roughly 300 salaried employees in the Oshawa area, local media reported in November. GM also employs thousands more in Ingersoll, Markham and St. Catharines.
US and Canadian autoworkers immediately vigorously protested those closures with local politicians and the White House also weighing in.
GM also announced last autumn it would be eliminating about 8,000 white collar jobs in North America and subsequently claimed it had been contacted by "dozens" of large companies expressing interest in hiring people it was cutting.
The GM Canada-Unifor agreement includes:
GM to invest "in excess of C$170m" to support a transition of operations at the plant from vehicle assembly to one focused on stamping, related sub-assembly, and other miscellaneous activities for GM and other auto industry customers.
GM will convert part of the Oshawa Plant property into a test track for autonomous and advanced technology vehicles – further expanding the capability of its Canadian Technical Centre (CTC) in Ontario.
The new business will retain 300 Oshawa jobs with the potential to grow and generate significant additional jobs in the coming years, as the business attracts new customers.
GM Canada will offer special relocations to Oshawa employees for jobs at some of its other Ontario operations.
GM will offer enhanced retirement packages to retirement-eligible Oshawa Assembly employees including vouchers toward the purchase of new GM vehicles, a benefit that will support both retiring employees and GM dealerships in Durham Region and surrounding areas.
A transition plan for other GM Oshawa Assembly employees. A Jobs Action Centre will be opened in June 2019, in Oshawa to enable employees to plan now for future career opportunities outside GM following the end of Oshawa vehicle production in December 2019. Supported by GM, Unifor and the Ontario government, the centre will help match employee skills with new employers' requirements.
GM will offer retraining financial support for all qualified Oshawa Assembly hourly employees seeking new employment.
GM also intends to donate the three-acre Fenelon Park and the 87-acre McLaughlin Bay wildlife preserve to the City of Oshawa.
GM Canada president and managing director Travis Hester said: "This transformation plan is very significant as it positions Oshawa for a sustainable future. This agreement maximises the support for our people and their families, and further secures Oshawa as a key in developing vehicles of the future at our new test track."
"By maintaining a footprint in Oshawa, and keeping the plant intact, we save hundreds of jobs and this gives us the ability to build and create new jobs in the future. We are in a much better position than we were five months ago when the plant was closing," said Jerry Dias, Unifor national president.