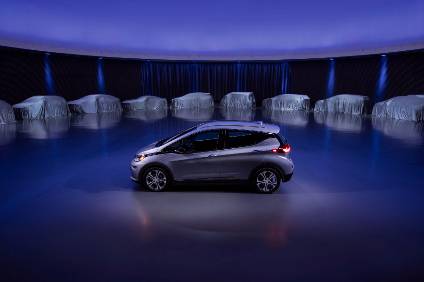 General Motors has called for a national US program of corporate credits and incentives for electric vehicle sales that it says could add more than 7m electric vehicles onto US roads by 2030.
GM said a single, 50-state solution 'will help move the US to a leadership position in electrification'. The company maintains that a federal program to boost EVs will create jobs through the expansion of battery and electric vehicle research and development and production, improve the environment and make electric vehicles more affordable.
A nationwide ZEV plan would also give automakers more flexibility to meet a single nationwide target, rather than specific state sales requirements, GM said. The state of California (and some others) have adopted a pro-ZEV regime that requires carmakers that sell internal combustion engine-based vehicles to earn a certain number of ZEV credits every year by selling zero-emission vehicles. The credit requirement is typically determined by the number of vehicles that the manufacturer sells in the state. There are fines for credit shortfalls, but companies can trade credits.
General Motors said it supports a nationwide program modeled on the existing ZEV program and provides these framework recommendations:
Establish ZEV requirements (by credits) each year, starting at 7% in 2021 and increasing 2% each year to 15% by 2025, then 25% by 2030.
Use of a crediting system modeled on the current ZEV program: credits per vehicle, based on EV range, as well as averaging, banking and trading.
Requirements after 2025 linked to path toward commercially viable EV battery cell availability at a cost of $70/kWh and adequate EV infrastructure development.
Establishment of a Zero Emissions Task Force to promote complementary policies.
Program terminates when 25 percent target is met, or based on a determination that the battery cost or infrastructure targets are not practicable within the timeframe.
Additional consideration for EVs deployed as autonomous vehicles and in rideshare programs.
General Motors anticipates the NZEV program, as recommended, has the potential to place more than 7m long-range EVs on the road by 2030, yielding a cumulative incremental reduction of 375 million tons of CO2 emissions between 2021 and 2030 over the existing ZEV program.
Mark Reuss, executive vice president and president, Global Product Group and Cadillac said: "General Motors has a vision of zero crashes, zero emissions and zero congestion. This is a bold vision and getting there will take bold actions.
"We believe in a policy approach that better promotes US innovation and starts a much-needed national discussion on electric vehicle development and deployment in this country. A National Zero Emissions Program will drive the scale and infrastructure investments needed to allow the US to lead the way to a zero emissions future."
Writing in an opinion piece published in USA Today, GM CEO Mary Barra said that "Trump's cuts to renewable energy put us on the ropes in the fight against climate change."
"We need government and industry cooperation," Barra said. She also said that there should be a renewing and enhancing of federal incentives for US consumers to buy electric vehicles. "As electrification reaches its tipping point, allowing these effective incentives to expire, as currently scheduled, will stifle growth," she wrote.
Barra also called for regulatory incentives to support US battery suppliers, who "can spark domestic job growth with advanced battery development and production".
She also pointed out that "governments and industries in Asia and Europe are working together to enact policies now to accelerate the shift to an all-electric future. We need further government and industry cooperation here in the US."