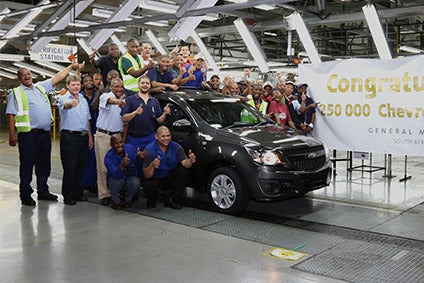 General Motors South Africa has built its 250,000th Chevrolet Utility at the Struandale plant in Port Elizabeth. The unit, a 1.8 Sport, marked 17 years of production of one of the country's most popular light commercial vehicles, now in its third generation.
"We are proud of the fact that this is a South African built bakkie. Our Struandale plant is efficiently geared up for light commercial vehicle manufacturing and we pride ourselves in building quality vehicles for our customers," said Ian Nicholls, president and managing director of General Motors Sub-Saharan Africa Operations.
Nicholls said Struandale was recently awarded a higher manufacturing quality status by General Motors after an international audit was conducted.
"This reinforces the future of manufacturing at the facility and is a huge positive if the company is to be awarded any contracts to build new model vehicles going forward. It in essence means that the manufacturing standard for Struandale has improved based on the globally recognised manufacturing quality standards."