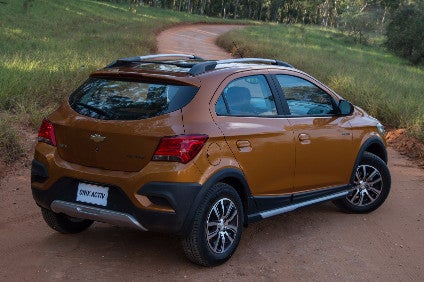 When General Motors decided to revamp its full Brazilian model line within a year back in 2012, it was aware that, just four years later, it would run a similar marathon once again – six launches in seven months.
Now the 2017 Onix and Prisma have made debuts simultaneously facing a double challenge: to improve styling and meet new efficiency laws scheduled for next October.
Currently market leader in its segment, the Onix hatchback has had a light restyle with new bonnet, grille, front bumper and headlamps. LED parking lamps (not DRL lighting which is not mandatory in Brazil) have also been introduced.
The sibling Prisma saloon also gets new tail lights and a discreet boot lid spoiler. Both cars now ride 1cm/0.39 inch lower due to suspension changes.
The Chevrolet brand has also joined the compact hatchback 'adventure' mainstream with the Onix Activ. The recipe is straightforward: ride height raised 3mm/1.18 inch with new suspension and tyres, exclusive finish details, roof bars and more equipment. Price is yet to be announced.
The Onix ranges from BRL44,890/US$13,600 with one-litre engine to the 1.4-litre at BRL59,790/$18,100. The Prisma 1.4 ranges from BRL53,690/$16,330 to BRL64,690/$19,600. The automaker also has not yet announced the one-litre saloon price.
The OnStar system now offers one additional service package and monitors tyre pressure via the telematics.
GM has surprised its competitors by improving the Inovar-Auto-mandated fuel efficiency without launching a whole new engine family. Chevrolet's models were the last to adhere to the Brazilian Vehicular Ticketing Programme (PBVE in Portuguese).
During this period GM's product engineers carefully analysed the Brazilian test procedure and concluded they could achieve the higher fuel efficiency benchmark, attaining the top 'A' grade in the segment.
The automaker is also likely to retain the current Opel three-cylinder engine for a couple more years ahead of the next stage of PBVE enforcement due to take effect in 2018.