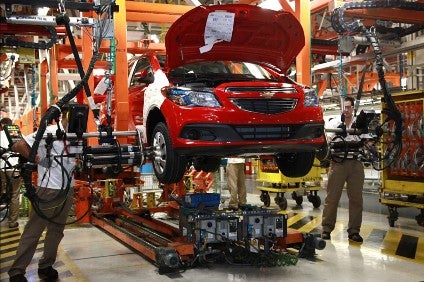 A spend of BRL3.1bn/US$1bn will complete investment previously announced by General Motors in its Brazilian manufacturing units.
The factory in São Caetano do Sul in the Greater São Paulo region, GM Brazil's first and oldest plant and also home to company headquarters, will account for BRL1.2bn/$400m.
GM has not detailed planned products but local rumour has it that, at last, a new light pickup truck will replace the current Montana, a now old design based on the Agile (first generation Corsa) discontinued in 2014. The pickup will be built at São Caetano do Sul.
The second new model is supposedly a compact SUV, successor of the current Tracker imported from Mexico. Both are to debut between the end of 2019 and early 2020.
This SUV would come from the Gravataí plant in Rio Grande do Sul state where GM Brazil's larger and more modern manufacturing plant is located, and where more investment was recently announcement.
These models will be based on a new, small car architecture developed by GM's Chinese JV partner SAIC.
Meanwhile, the Joinville, Santa Catarina state, powertrain plant will get BRL1.9bn/$600m to build a new engine family to replace the old powerplants of Opel origin still being produced there.
It is taken for granted the new engine range will consist of modern, three-cylinder and turbocharged motors.
No investment is planned for the Sao Jose dos Campos plant, 92km/57 miles from the state capital of Sao Paulo City, where S-10 pickups and the Trailblazer SUV, along with diesel and Otto cycle flexible fuel engines, manual gearboxes and CKD kits for export and foreign assembly are produced.
In this plant's case, the automaker has failed to reach medium and long term labour accords with the local metalworkers union, known in Brazil to be radical. With no refurbishment plans on the table for this plant opened in 1959, its prospects are bleak.