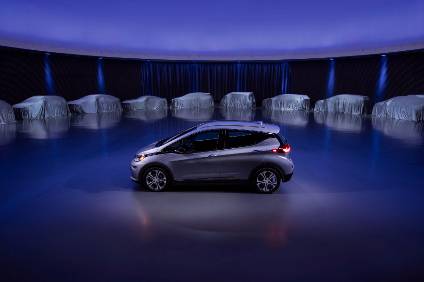 General Motors plans to launch two new electric vehicles in the next 18 months 'based off learnings from the Chevrolet Bolt EV'. They will be the first of at least 20 new all-electric vehicles that the company says it will launch by 2023.
"General Motors believes in an all-electric future," said Mark Reuss, General Motors executive vice president of Product Development, Purchasing and Supply Chain. "Although that future won't happen overnight, GM is committed to driving increased usage and acceptance of electric vehicles through no-compromise solutions that meet our customers' needs."
The company also highlighted the importance of hydrogen fuel cell technology in its strategy. Getting to a zero emissions future will require more than just battery electric technology, GM said in a statement. 'It will require a two-pronged approach to electrification — battery electric and hydrogen fuel cell electric depending on the unique requirements.'
GM also introduced SURUS — the Silent Utility Rover Universal Superstructure — a fuel cell powered, four-wheel steer concept vehicle on a heavy-duty truck frame that's driven by two electric motors. With its capability and flexible architecture, SURUS could be used as a delivery vehicle, truck or even an ambulance — all emissions free.
Future generations of GM electric vehicles "will be profitable," Reuss said. However, Reuters noted that he also added it was not clear when GM could make all its new vehicle offerings zero-emission electric cars.
GM's announcement to ramp-up its electrification plans came on the eve of a strategy update for investors from rival Ford. Ford CEO Jim Hackett is planning an update that is sure to be critically assessed by investors for evidence that the company is well-placed to address major challenges facing the automotive and transportation sector.
A recent report by analysts at Deutsche Bank suggested that GM is planning to deploy autonomous vehicles in rideshare services by 2020.
However, Reuss stressed that GM remains committed to making its internal combustion engines more efficient.