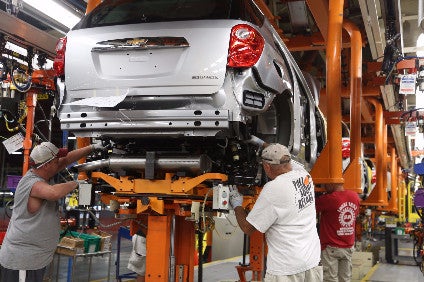 General Motors will add a third shift, opening up 650 jobs, at its Spring Hill, Tennessee factory to increase production of the recently launched Cadillac XT5 and GMC Acadia SUVs.
The shift is expected to begin in January 2017. Staffing details are being finalised and openings will be filled from this quarter, the automaker said in a statement.
Spring Hill, once close to closure, is the former Saturn plant and has received considerable investment to build new vehicle models and powertrains in recent years.
"Spring Hill is demonstrating again its flexibility and agility to meet increasing customer demand for GM's hot products," said Cathy Clegg, vice president, GM North America manufacturing and labour relations.
"Just last month, Spring Hill quickly converted engine production to meet higher demand for full-size truck engines," she added. "Now the Hill team will need to move with lightning speed to launch a third shift in vehicle assembly in only three months."
The factory is on 2,100 acres 40 miles south of Nashville. It's a flexible vehicle assembly plant with body shop, paint shop, two polymer injection moulding operations and general assembly, plus an engine plant. It employs 3,300 hourly and salaried workers.
GM has announced over US$2bn in spending for the plant since 2010. This included a $148m allocation announced in February to re-purpose flexible machining and assembly equipment to build small block 6.2-litre V8 engines for trucks. The engine plant is also being expanded as part of a $788.7m spend announced in April.