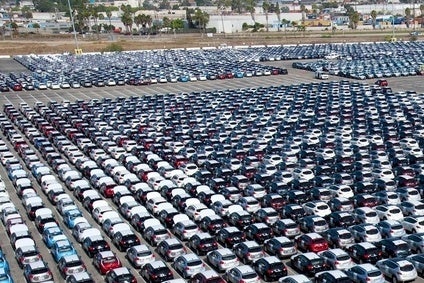 The Global Light Vehicle (LV) selling rate plunged to 67 million units/year in April 2022. Most major markets remain supply-constrained, with lockdowns in China as well as the war in Ukraine only exacerbating these issues and thus applying downward pressure to global sales activity.In year-on-year (YoY) terms, sales were down a staggering 25%, with all major markets experiencing a contraction. China felt the impact of its zero COVID-19 policy, with over 20% of dealerships closed due to lockdowns, while in the US, inventories remained tight due to global supply problems.
North America
US Light Vehicle sales fell by 18.2% YoY in April, to 1.25 million units, while the selling rate accelerated to 14.5 million units/year, from 13.4 million units/year in March. The annual decline was made more severe by a strong performance in April 2021, when the selling rate was 18.3 million units/year – the high point of the post-pandemic recovery. Although the picture varies by OEM, inventory is still extremely tight overall, and average transaction prices reached US$45,130 in April, up by 18.4% YoY, while incentives were a mere US$1,006, a decrease of 66.4% YoY.
In Canada, LV sales are estimated to have declined by 5.7% YoY in April, to 153k units. The selling rate slowed to 1.46 million units/year, from 1.52 million units/year in March. The result was disappointing, given that April 2021 was a weak month amid COVID-19 restrictions. Supply chain problems continue to plague the market. In Mexico, sales were down by 0.2% YoY in April, at 83k units, while the selling rate rose to 1.14 million units/year, from 1.11 million units/year in March, the strongest selling rate in a year.
Europe
The West European selling rate remained at 10.6 million units/year in April, with supply chain bottlenecks still the key reason for the depressed level of registration statistics. The war in Ukraine, as well as lockdowns in China, only exacerbate supply issues. Meanwhile, underlying demand is increasingly struggling in the face of growing economic challenges, not least high inflation.
The East European selling rate fell even further in April, now at 2.5 million units/year, as sales activity in the region continues to be severely disrupted by the war in Ukraine, as well as global supply issues.
China
Preliminary data indicates that sales (i.e., wholesales) in China plunged amidst the strict lockdowns in major cities in the country. The April selling rate reached only 14.1 million units/year, down 42% from an average of 25.2 million units/year in Q1 2022. In YoY terms, sales declined by 45% in April and 8% YTD. The impact of the lockdowns (in particular in Shanghai) on the auto industry has been significant, with OEMs, suppliers and logistics all being forced to cut their operations. The resumption of some auto plants in April did not help improve the situation. According to China Automobile Dealers' Association, over 20% of the dealerships in the country have been closed since the lockdowns started.
NEVs, however, continued to outperform the overall market, with sales expanding by 45% YoY to 280k units, accounting for about 30% of PV sales. BYD became the top-selling brand in the country in the month, selling over 100k units. With no sign of ending lockdowns, sales will likely continue to be disrupted in May.
Other Asia
Sales in Japan continued to be constrained by the supply issues. The April selling rate accelerated to 4.5 million units/year, up 13% from a sluggish March, but that brought the YTD average selling rate only to 4.2 million units/year, falling short of last year's average of 4.4 million units. China's lockdowns have exacerbated the global supply bottlenecks, forcing a number of OEMs to suspend production temporarily. As demand remains strong, delivery times for popular models now range between several months to a few years.
The Korean market, too, continues to be impacted by the global supply chain disruptions. Despite robust demand, the selling rate slowed for the second consecutive month to 1.58 million units/year in April, down 2% from March. In YoY terms, sales declined by 11% in April and 13% YTD. The shortages of components have intensified in the recent weeks, due to China's lockdowns, leading to production disruptions and lower inventories at dealerships. The Korean OEMs are prioritizing the export market, which has also limited the supply of new vehicles for the domestic market.
South America
In April, 137k Light Vehicles were sold in Brazil, the highest monthly volume so far in 2022. Yet, for the eighth consecutive month, volumes fell by double-digits YoY, plunging by 17% in April and by 23% YTD. The selling rate accelerated to 1.71 million units/year, from 1.56 million units in March. Inventories grew by 3% MoM to 129k units, while supply remained stable at 26 days. However, as ongoing supply-side issues start to subside, rapidly rising interest rates are making vehicles significantly less affordable for many Brazilians.
In Argentina, LV sales were down by 3.5% YoY in April, to 29k units. The selling rate decreased to 359k units/year, from 375k in March. April's results marked 10 consecutive months in which the selling rate has been below 400k units/year. The market is stuck in the doldrums, as high inflation and rising interest rates weigh on consumer confidence, while government import restrictions also hinder vehicle sales.