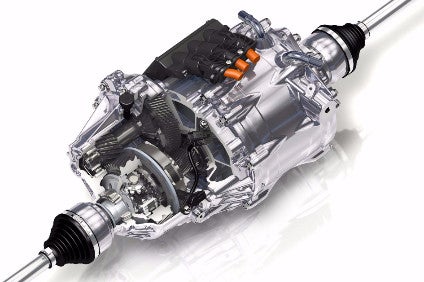 GKN Automotive is again supplying Geely's Volvo Cars with an eAxle system for a plug-in hybrid.
The contract this time is for the S90. By producing an eAxle system that fits in the same space as a standard rear drive module, GKN enables Volvo to offer customers a plug-in hybrid as a simple, high-performance upgrade.
GKN Automotive president of engineering, Peter Moelgg, said: "Consumers expect premium brands to offer truly innovative driving experiences. Plug-in hybrids with electric power driving the rear wheels are the ultimate feel-good upgrade for consumers – they offer huge advances in environmental performance, driver enjoyment, fuel economy and refinement. GKN's eAxle technology and driveline systems integration expertise is making them a commercial reality."
The eAxle takes power from a 65 kW, 240Nm electric motor with a nominal maximum input speed of 13,000rpm and, via a two-stage single speed gearbox with a ratio of 10:1, delivers a nominal output torque of 2,400Nm. The system supports both pure electric driving and full all-wheel drive capability where the rear wheels are driven by electric power and the front by a combustion engine.
In AWD and power mode the engine operates continuously and a 34kW engine mounted ISG ensures the charge level in the battery pack to supply the eAxle with requested power.
The technology first launched on the new XC90 T8 Twin Engine plug-in hybrid SUV. Its innovative co-axial design means that the eAxle is no bigger than the S90's standard rear drive module. The system has a high internal efficiency of around 97.5% and uses a differential with electronic disconnect to decouple the electric motor at times to minimise losses.
GKN has pioneered eAxle development, making the systems smaller, more powerful and easier to integrate into vehicles. The company's eAxles enable vehicles to offer useful pure electric ranges of more than 20 miles; in the case of the S90 the vehicle can travel up to 28 miles in pure electric mode. The technology also gives vehicles a substantial upgrade in terms of driving dynamics, performance, refinement and all-weather traction.
GKN works as a development partner on all-wheel drive and plug-in hybrid systems for Volvo Cars.