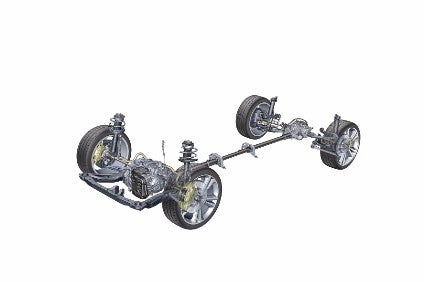 GKN Driveline said its Twinster torque vectoring all-wheel drive (AWD) system has entered series production with another major car manufacturer.
The latest application of the advanced technology is for AWD variants of the new General Moors Europe Opel/Vauxhall Insignia Grand Sport (hatchback) and Sports Tourer (wagon) models which are currently being launched across Europe.
Twinster technology offers the enhanced traction, driving dynamics and stability of all wheel drive by optimising torque delivery in all weather and road conditions. Constantly managing the distribution of torque – between front and rear axles, and between the rear wheels – according to changes in throttle position, steering angle and road surface, it ensures maximum stability and traction, GKN claims.
It can also deliver specifically tuned dynamic characteristics. It helps the car to respond with immediacy and precision to the driver's inputs by sending more torque to the outside rear wheel when turning, inducing higher rotation around the vertical axis (reducing understeer).
The level of yaw support in the new Insignia can be selected via pre-set driving modes. Medium yaw support can be achieved in Tour mode; high yaw support is set in Sport mode for greater responsiveness.
Peter Moelgg, CEO of GKN Drivelines AWD product line, said: "Our Twinster system is fast becoming the favoured solution for OEMs who recognise consumer demand for all wheel drive and wish to avoid the compromises that it traditionally imposes.
"Our work with Opel marks the first time that Twinster's intelligent torque vectoring has been offered in the mid-size sector in Europe. Not only is this an outstanding accomplishment for the development team, but it also demonstrates the versatility of the system and its suitability for almost all vehicle sectors."
The twin clutch rear drive module is more compact than conventional rear differentials and is lighter and less complex than other torque vectoring systems.
The supplier works with OEM customers to tailor the hardware and software for each application. Previous configurations of the technology have been fitted to the Range Rover Evoque/Land Rover Discovery Sport platform, the Lincoln Continental and MKZ, Cadillac XT5, Buick LaCrosse and the Ford Focus RS.
Research 4WD/AWD (torque vectoring provides the feeling of performance and assurance that are cited as key purchase motivators) and GKN with just-auto's database QUBE