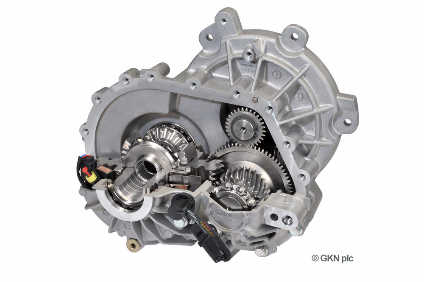 UK Tier 1 supplier GKN Driveline says it has continued its global electric axle (eAxle) drive partnership with the BMW Group, supplying eAxle technology for a plug-in hybrid version of the BMW X1 for the Chinese market.
The system is part of the same scalable family of eAxles used in the plug-in hybrid BMW 2 Series Active Tourer 225xe.
GKN Driveline Chief Executive Officer Phil Swash said: "This latest program launch for The BMW Group in China shows GKN's global leadership in electric drive systems. From the i8 sports car to the X1, GKN's work with the BMW Group reflects our position as the development partner of choice for the new wave of plug-in hybrids with electric AWD."
Early adopters of GKN's electric axle drive used the technology to create plug-in hybrid sports cars with electric all-wheel drive that enhanced performance and efficiency. Automakers are now equipping a new generation of compact vehicles with GKN electric drive technology, GKN Driveline says.
Peter Moelgg, Chief Executive of GKN Driveline's AW&E Drive business, said: "Automakers' evolving powertrain strategies require suppliers with a focus on mass-production of key technologies – and system integration capability. The combination of our proven driveline innovation experience, all-wheel drive expertise and eAxle production capabilities are making eAWD viable in compact vehicles. GKN's hardware and software expertise is also supporting the development of future platforms – these will need driveline suppliers to interface effectively with the rest of the vehicle's electronic architecture."
The system will be supplied from GKN's facility in Bruneck, Italy, but application and development work for the technology was conducted by GKN's operations in Shanghai, China.
For compact car applications, GKN's single-speed design has a transmission ratio of 12.5:1, reducing the electric motor speed in two stages. The system generates up to 2,000Nm and 70kW of additional torque and power – enough for a vehicle's pure electric mode to achieve speeds of up to 125km/h and for an all-wheel drive (AWD) mode that accelerates faster than conventional mechanical AWD systems.
The lightweight electric axle weighs just 20.2kg and its compact dimensions facilitate packaging and installation in smaller vehicles. The unit has a length of 457 mm, a width of 229 mm and a height of 259 mm.
When hybrid operation is not required, an electromechanically actuated dog clutch disconnects the e-machine from the driveline, minimising losses at higher vehicle speeds. GKN says it has also optimised gear and bearing arrangements for optimum efficiency, NVH (noise, vibration and harshness) and durability.
GKN Driveline has put plenty of effort into its electrification drivetrain products in recent years. It launched the world's first two-speed eAxle in the plug-in hybrid BMW i8 and also supplies the eAxle on the Volvo XC90 T8 Twin Engine PHEV programme. The company was awarded Official Porsche Technology Partner status for its contribution to the plug-in hybrid Porsche 918 Spyder programme.