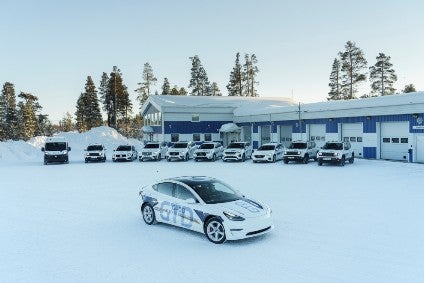 GKN Automotive is forecasting a 2020 sales growth for its electrified drivelines of 141%.
The supplier unveiled the increase at its annual winter test in Arjeplog, where it is evaluating the G400 eDrive unit, which is scalable for a variety of torque classes.
GKN estimates its eDrive production will reach 1m units per year by 2025, with the technology featuring in recent debuts in the Opel Grandland X and Peugeot 3008 PHEVs for example.
"The application of our G400 eDrive module into two very different vehicle platforms, showcases how we are evolving and refining out scalable electric driveline technologies," said GKN ePowertrain COO, Hennes Prenn.
"As our eDrive order book continues to grow, we are accelerating the development of our standardised range of eDrive units to cater for all platform sizes and torque output requirements.
"To meet this demand, we have increased our inverter development capabilities by establishing a partnership Delta Electronics and have commissioned an in-house eMotor production line at our Bruneck facility in Italy. By integrating our inverter, transmission and eMotor technology into modular units, GKN Automotive is decreasing costs and reducing component packaging for automakers."
The Arjeplog winter testing is a multi-month event with up to 20 cars and a team of engineers at GKN's permanent facility which provides a hostile driving environment. With temperatures reaching down to -40C, the supplier says it can analyse its systems more quickly compared to normal road conditions.
"When we first started testing in Arjeplog, we had a relatively small presence, but over the last 32 years, GKN Automotive has expanded its Wintertest programme substantially," added head of Engineering Projects, Michael Ricks. "We now have up to 25 engineers working here and between 15 and 20 vehicles at different stages of testing.
"We have also expanded our Wintertest programme to a global operation, testing and developing technology and vehicles on three continents."
The Arjeplog facility is in addition to GKN's winter programmes at the Smithers Winter Test Centre in Brimley, Michigan and one in China.
GKN Automotive has been involved with eDrive technologies since 2002, developing experience of systems integration and production.
The company has now delivered more than 1m eDrive units, including integrated 2-in-1 eMotor and transmission modular systems, such as the ERAD in the Volvo XC60 and XC90 and the new LEVC TX5 London taxi.
The company supports other OEMs with their evolving line-ups of electrified vehicles, including PSA and FCA.
Late in 2019, GKN Automotive launched the next phase in its electrification strategy. It is developing a range of 2-in-1 and 3-in-1 electric drive systems for pure electric and plug-in hybrid vehicles, to cover mass-market torque requirements from 2,000 Nm to 5,800 Nm.