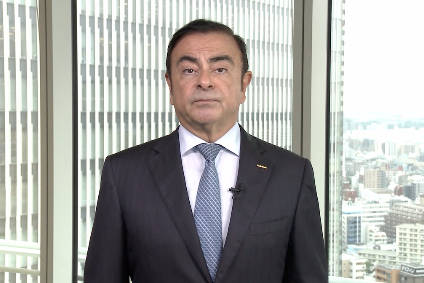 Nissan chief Carlos Ghosn – now confirmed as the new chair of Mitsubishi – is targeting annual synergy benefits of up to 60 billion yen a year as Nissan completes a deal to take a controlling stake of 34% in the struggling automaker, which will be added to the Renault-Nissan Alliance.
Ghosn predicted that through its partnership with MMC, Nissan would target synergy benefits worth 24 billion yen in fiscal year 2017, rising to 60 billion yen in fiscal year 2018 and beyond. The gains will contribute to increased earnings per share worth an estimated 4 yen per share in fiscal year 2017 and 10 yen per share in fiscal year 2018 – on top of any earnings accretion linked to Nissan's overall shareholding in MMC.
Carlos Ghosn said that Nissan and MMC would collaborate on joint purchasing, deeper localisation, joint plant utilisation, common vehicle platforms, technology-sharing and an expansion of the companies' combined presence in both developed and emerging markets.
Nissan offered its assistance at the request of Osamu Masuko, president and chief executive officer of MMC, following the company's fuel economy crisis. MMC is in crisis and losing sales following an admission that it improperly measured fuel economy in official tests for small cars sold in the Japanese market. The two companies have cooperated on kei-cars for the Japanese market over the past five years.
"We are committed to assisting Mitsubishi Motors as it rebuilds customer trust," said Ghosn. "This is a priority as we pursue the synergies and growth potential of our enlarged relationship."
Nissan has now completed its acquisition of a 34% equity stake in MMC and became its largest shareholder.
MMC will also become part of the global alliance with Nissan and Renault. The addition of MMC takes the alliance's annual volume to around 10m units.
With the addition of MMC, the Alliance will be in the world's top three automotive groups by global
"The combination of Nissan, Mitsubishi Motors and Renault will create a new force in global car-making," said Ghosn. "It will be one of the world's three largest automotive groups, with the economies of scale, breakthrough technologies and manufacturing capabilities to produce vehicles to serve customer demand in every market segment and in every geographic market around the world."
Ghosn has announced a number of other management changes, effective November 1, to allow him to continue to focus on maintaining Nissan's momentum in delivering performance, while at the same time supporting Masuko at MMC.
Ghosn has proposed to the Nissan Board, which has approved, the appointment of Hiroto Saikawa, currently chief competitive officer, as co-chief executive officer.
Saikawa will be succeeded as chief competitive officer by Yasuhiro Yamauchi, currently Alliance executive vice president of purchasing.
Veronique Sarlat-Depotte, currently deputy to Yamauchi will assume the responsibility as Alliance executive vice president of purchasing and head of the Renault Nissan Purchasing Organization. She will be supported by Makoto Uchida who will take responsibility for purchasing at Nissan.
Also at the request of Masuko, the management team of MMC will be further strengthened by current Nissan Chief Performance Officer Trevor Mann, who will become chief operating officer of MMC.
Mann will be replaced as chief performance officer by Jose Munoz who will continue as chairman of Nissan's North American region.
Ghosn added: "At a time of unprecedented change in the global auto industry, this strategy will build on our existing strengths and management capabilities to ensure increased competitiveness, better products for our customers and attractive returns for shareholders."
A strategic alliance between Nissan and MMCwas announced in May.