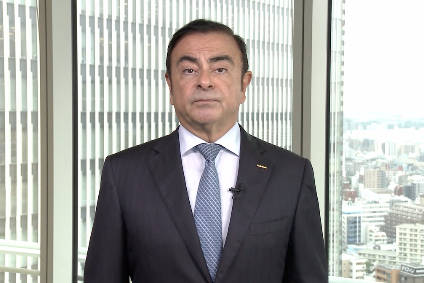 Tokyo prosecutors have officially charged ousted Nissan Motor chairman Carlos Ghosn for under-reporting his income and extended his detention on suspicion of additional financial misconduct, according to local media reports.
Prosecutors also indicted Nissan for filing false financial statements making the Japanese automaker culpable for the scandal that has shocked the auto industry, Reuters reported from Tokyo.
On 19 November, Ghosn was arrested on on suspicion of conspiring to understate his compensation by about half of the actual JPY10bn (US$88m) over five years from 2010 and has since been held in a Tokyo jail for questioning but had not been officially charged until Monday (10 December). Prosecutors also re-arrested him the same day for allegedly understating his income for three more years to the end of March 2018.
Nissan, which fired Ghosn as chairman days after his arrest, had said the misconduct was masterminded by the once-celebrated executive with the help of former representative director Greg Kelly, who was also officially charged for the first time on Monday.
According to Reuters, Ghosn and Kelly had not made any statement through their lawyers but Japanese media reported they had denied the allegations. News agency calls to Ghosn's lawyer, Motonari Otsuru, at his office went unanswered.
After its indictment was announced, Nissan said it took the situation seriously.
"Making false disclosures in annual securities reports greatly harms the integrity of Nissan's public disclosures in the securities markets, and the company expresses its deepest regret," it said in a statement cited by Reuters.
Japan's securities watchdog, the Securities and Exchange Surveillance Commission, said the crime carried a fine of up to JPY700m ($6.21m).
Reuters noted that analysts and legal experts had said it could be difficult for Nissan and its chief executive Hiroto Saikawa to avoid the fallout, whether it turns out that other executives had knowledge of Ghosn's misconduct, or that the company lacked internal controls.
Another media report from Japan suggested Ghosn had been planning to oust Saikawa before his arrest.
"Now suddenly the issue of CEO Saikawa becomes bigger. It becomes difficult to overlook Saikawa's role in all of this. That becomes the main focus now," prominent lawyer and former prosecutor Nobuo Gohara told Reuters.
The report said Nissan had stepped up its offensive against the executive once credited for rescuing the company from near-bankruptcy.
The automaker said on Sunday it was seeking to block access by Ghosn's representatives to an apartment in Rio de Janeiro, citing a risk that the executive may remove or destroy evidence.
A Brazil court has granted Ghosn access to the property, owned by Nissan, in the Copacabana neighborhood, but the company said in a statement that it was now petitioning a higher court to reverse the decision.
Nissan has also blamed Ghosn for a series of infractions including personal use of company funds. While not commenting on the possibility that other executives may have had knowledge or been involved in the wrongdoing, it has acknowledged a need to improve its governance.
Nissan's board last month agreed to create a special committee and take advice from an independent third-party group about how to improve governance and oversight of director compensation.
Ghosn remains chairman and chief executive of Renault.