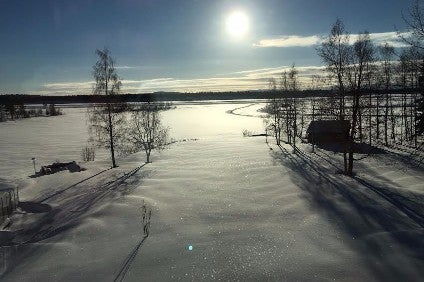 Magna says its recent US$1.9bn acquisition of Getrag allows it to generate powerful synergies as the Canadian supplier looks to capitalise on the increasing popularity of all-wheel and four-wheel drive vehicles.
The global component manufacturer made its comments at the company's annual Winter Test in the far Northern Swedish town of Arjeplog, where it carries out rigorous development of new product in temperatures of -17C and below.
Emissions efficiency – whether through light-weighting or developing electric vehicle technology is also high on Magna's wish list as it looks to leverage the combination of itself and Getrag.
"We [Magna and Getrag] were both working on separate topics and now we have joint efforts,"Magna director, product management, Walter Sackl, told just-auto on the test track in Arjeplog.
"We are now a really powerful company providing a one-stop solution."
At the same time as Magna's Winter Test, just south of the Arctic Circle, the supplier also unveiled in Sailauf, Germany, its its Flex4 all-wheel drive technology, which forms the technical foundation of the Audi Quattro ultra system.
The technology was developed jointly by Magna and Audi to fit into vehicles with longitudinally mounted engines and dual-clutch or manual transmissions.
With the system it is now possible to have an all-wheel-drive disconnect system, which automatically activates all four wheels only when necessary, which is around 20% of all driving conditions.
In driving situations where there is no need for all-wheel drive, the rear axle drive is completely decoupled from the drivetrain, meaning the vehicle drives with its front wheels only. Magna says this true disconnect system goes beyond systems currently available to reduce friction and transmission losses, improving fuel efficiency and emissions.
The solution also weighs less than permanent all-wheel drive.
"The Quattro ultra technology is the result of advanced engineering and collaboration between supplier and automaker with Audi," said Magna Powertrain, Jake Hirsch. "Together we developed a system that combines driving pleasure with a significantly smaller carbon footprint, as well as increased safety to help Audi set a new standard for all-wheel drive."
Magna was also demonstrating its technology at the Winter Test on vehicles such as the BMW X3 with Magna Powertrain Ecomax with semi-dry architecture and the Flex4 Fast Reconnection, the Alfa Romeo Giulia Veloce with Actimax Transfer Case and the VW Golf R with Flex4 – Twin Rear Drive System.
In terms of Getrag technology, Magna showcased in Arjeplog the 7DCT300 dual clutch transmission on the Renault Mégane IV. It combines low-loss layshaft transmission technology with third generation electro-mechanic on-demand actuation.
The Magna product management director also noted the future looked rosy for the component provider as China continued to generate demand, while also a largely resurgent Europe continued to drive optimism.
"How do we see the future?" added Sackl. "Hopefully we see some market growth. In the next year, vehicle sales in total will still grow with the majority seen in China, but also not bad in Europe.
"The 4×4 is outperforming the market – the question is what about the solutions?
"We are the largest supplier for these systems, having good business and volumes for several customers. We are supporting our customers with respect to their brand image.
"[For example] The Ecomax provides a dry friction clutch – we are evolving to dry friction technology. It is [also] important to sell vehicles by emotion and further improvement can be seen with [the] torque vectoring function.
"Strategies out of that are also used for future electric vehicles."
Magna's Winter Test consists of an intensive two-week period where it demonstrates the technology to customers in some of the remotest parts of Northern Sweden.