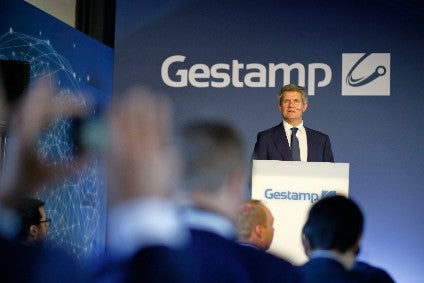 Gestamp says it is "prepared" for consolidation in the industry, but maintains it will continue its focus on implementing 4.0 techniques embracing digital technologies.
One of the last mega-merger between suppliers was ZF's acquisition of US component manufacturer, TRW to create a US$36bn behemoth, but Gestamp, while aware of tie-up possibilities, has latterly concentrated on joint ventures such as last year's cooperation with Beijing Hainachuan Automotive Parts (BHAP).
Gestamp's joint venture with the Chinese metal components company saw operations start at the end of last year, with the opening of a new plant in Tianjin, supporting Daimler and Hyundai, among other international clients, in the Beijing, Tianjin and Hebei areas.
The Spanish supplier also inked a joint venture with components manufacturer, Tuyauto, marking its first entry into Africa in the town of Kenitra, around 50km kilometres from Rabat and next to the PSA plant.
However, the seemingly unstoppable march of CASE megatrends requires vast injections of capital to fund research and development, with Gestamp noting that may need further cooperation in the future.
"There is a huge amount of money [needed] to invest in new CASE ideas," said Gestamp founder and executive chairman, Francisco Riberas at the manufacturer's giant Bielefeld plant in Northern Germany last week (18 June). "Consolidation will happen in the area of suppliers.
"They need to have suppliers capable of manufacturing components all over the world. Consolidation will happen and in the case of Gestamp, we have been quite active. If there any kind of consolidation, we will be able, ready and prepared.
"Of course it could be a very important opportunity, but at the end of day we should not lose our focus and keep going with 4.0."
Riberas made his remarks at the Bielefeld plant between Dortmund and Hanover, which is Gestamp's largest production plant worldwide and which supplies 42 OEM sites in Germany and 20 other factories globally.
Bielefeld produces chassis components, outer skin, HSS structural and serial structural parts, as well as technologies such as assembly processes, cold stamping and cataphoretic painting.
Gestamp, in common with other suppliers, has had to battle heavy macro-economic weather in the past year, but nonetheless posted 2018 net income up 7.5% to EUR258m (US$294m). Its global workforce has continued to grow to more than 43,000 employees across the 22 countries where it has industrial presence.
"Clearly what we have seen in the last quarter and at the beginning of 2019, has been a slowdown in the global economy," added Riberas. "[The] Euro area is a little bit more affected, China is going down, [while] we have seen also volatility in the financial markets.
"Other macro issues are Brexit. Of course Brexit [had] a quite important impact in April in terms of automotive manufacturing due to the uncertainty of the [UK] exit date. We have seen these kinds of consequences in the automotive footprint like the announcement of Honda to close, to end in Swindon.
"In this difficult environment, Gestamp has been able to perform well, keeping our DNA with growth. Our company has been able to grow every year since 2009. In the last few years due to new opportunities, the most important part of growth has been by opening new facilities."
Gestamp's German facilities include plants at Bielefeld, Haynrode, Remscheid, Hauzenburg, Westerberg and Hengersberg.