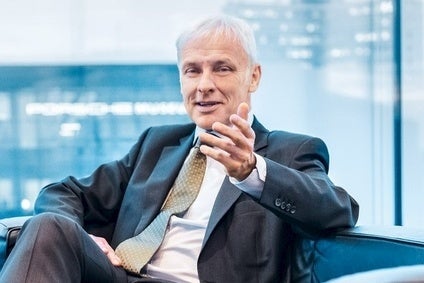 Volkswagen has posted third quarter results that show a big swing to loss after the provision for costs associated with its diesel emissions scandal and pending recalls to fix the problems.
The company reported a third quarter loss of EUR3.48bn as it set aside whopping EUR6.7bn in the quarter to cover diesel recall related costs. Some 11m cars are affected by the problem globally, with VW preparing to recall 8.5m cars in Europe over the course of the next year.
VW admitted that its 2015 full-year profit outlook has had to be changed with operating profit likely to be 'down significantly' year-on-year. The group has already said it will cut down investment spending as a result of the financial impact of the scandal.
The company may need to set aside more funds to deal with the crisis if its market position worsens, with reports that discounts on new cars may have to be considered.
New VW CEO Matthias Müller said last week that Volkswagen is working intensively on finalising the technical solutions for its customers as quickly as possible. He added that efforts to uncover the full truth of what had happened were being systematically pursued. "That is the only way to learn the right lessons and avoid such misconduct in future," he said.
Earlier this week, Toyota published cumulative vehicle sales figures for the year so far that showed it has retaken global sales leadership from VW Group, which led at the half-year stage.