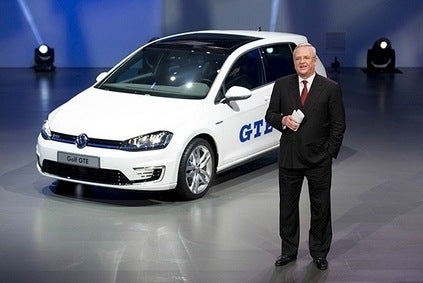 Volkswagen Group CEO Martin Winterkorn is coming under growing pressure as the emissions scandal continues to make headlines around the world. Reports say that Winterkorn faced an emergency meeting with board members today to explain the unfolding crisis and the company's response.
Volkswagen's share price has plummeted by almost a third since the crisis broke at the weekend. Some analysts have speculated that Winterkorn's position will come under threat if major shareholders lose confidence in him this week.
Reuters reported that senior figures on the board's five-member executive committee grilled Winterkorn on the crisis today.
Winterkorn is due to have his contract extended at the end of this week when the Suepvisory Board is due to meet. Thus far, he has apologised profusely but has shown no sign of resigning over the scandal. At this stage, Winterkorn's role in the scandal is unclear, observers note.
The US Environmental Protection Agency (EPA) has said Volkswagen could face penalties of up to $18 billion for cheating diesel emissions tests in the US and the company has said it will set aside EUR6.5bn in its third-quarter accounts to help meet likely costs. VW has also admitted that 11m cars worldwide could be impacted.