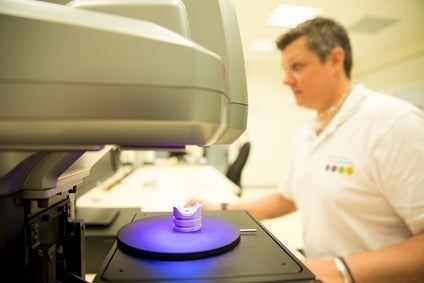 Saint-Gobain says the changing landscape of future vehicle use will present it with further business opportunities.
As well as the likely introduction of autonomous cars in the relatively near future, the way consumers regard personal transportation is also undergoing seismic shifts as vehicles may not necessarily be owned by the same person.
"The challenges are also opportunities," Saint-Gobain sales manager Europe, Daniel Tobias, told just-auto at its German bearings production factory in Willich near Düsseldorf. "For sure we have a challenge – the younger generation is not that interested in cars. They might have different interests which can lead to, for example, topics like car sharing.
"How will this affect using the car when you have different passengers starting in the same car. For example you will have to adjust the headrest more often. It [headrest] has to be suitable for different bodies.
"Of course the other challenge is stagnation of European volumes, so we are trying to increase the content of vehicles outside the traditional, like the headrest and seat track.
"We have many conversion sites where we can flexibly support local activities, not just with manufacturing, but also with support functions. Our products are not just pieces of metal, but solutions."
The global supplier is realistic enough to expect "there will always be economic crises" in the world, but with 50 years experience in the bearings sector, it believes it retains the necessary know-how to ride out storms.
"We are so embedded in the vehicles that we are not afraid," added Tobias. "If there is a drop in Europe, there will be growth somewhere else.
"Of course volumes of cars [Europe] are flat, but we are successful in increasing market share and adding new solutions and we can still grow even in Europe."
The component manufacturer was coy on the possibility of any potential exit by the UK from the European Union (EU) – it has a plant in Bristol – as the British government gears up to present a referendum on the question in 2017.
"I believe even if the UK stays outside the EU, the Bristol site will remain because it is a centre of excellence with R&D," added Tobias.
"We try to build everything around four key benefits [smart design, perfect fit, noise free and long life] we have in line with global automotive trends. We are quite good at it – we are bringing people out of their comfort zone.
"We are always trying to be ahead of the game and it is a challenge for any major industrial company; never be satisfied with the status quo."
Saint-Gobain was talking to just-auto as it unveiled a new range of Norglide customisable composite bearings at its Willich site. The bearings have new material advancements and Saint-Gobain's polytetrafluoroethylene compound liner.
Saint-Gobain maintains the corrosion resistance bearings stand up to salt and moisture conditions beyond normal applications.
After 1,000h in salt spray tests where galvanised steel or aluminium hinges housed the component, the company says the bearings displayed no rust.
"The brand of a car can live or die by its ability to perform well throughout alternating weather conditions – having components that perform well whatever the weather and load is essential for reputation and repeat sales," said Saint-Gobain global market manager, Automotive Exterior, Hans-Jurgen Jager.
"We are confident our Norglide bearings will keep the OEM ahead of others…and also save them bottom line costs through facilitating the manufacturing process."
In 2015, Saint-Gobain is celebrating its 350th anniversary.