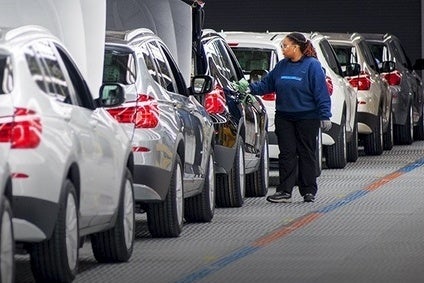 Despite record vehicle sales in the second quarter of 2014, adverse exhange rates held back a rise in BMW Group revenues to just 1.8% (EUR19,905m). But EBIT rose 26% to EUR2,603m and net profit climbed 27.2% to EUR1,771m. Unit sales were up 5.3% to 533,187.
That EUR2.63bn EBIT result topped a forecast of 2.23bn in a Reuters poll of analysts helped by new models, the company said.
"This is a major beat and we remain convinced that the street is underestimating BMW's medium and long-term earnings power," ISI Group said in a note cited by Reuters.
BMW's automotive EBIT margin was 11.7%, higher than the 7.9% achieved by Mercedes-Benz Cars and above its own target range of between 8% and 10%, the news agency noted.
The automaker said half year revenues rose 2.8% to EUR38,140m, EBIT was up 14.4% to EUR4,693m and net profit was up 19.6% to EUR3,233m. Unit sales volume increased 6.9% to 1,020,211 – the first time over a million was a achieved in a first half.
BMW brand sales were up 8.3% to 458,088 units in the first quarter and 10.2% to 886,347 in the first half.
The hatchback redesign model changeover led to Mini sales down 10.4% to 74,028 units in the second quarter and off 11.4% to 131,896 units in the first half.
Rolls-Royce sales rose 28.6% to 1,071 units in the second quarter and by 33.4% to 1,968 in the first half.
Growth was seen in all major sales regions in the first half, BMW said.
The group confirmed its sales volume and earnings forecast for full year 2014.
"We are on track to achieve our targets for the full year," said chairman Norbert Reithofer.
"Within a market environment which continues to be challenging, deliveries to customers (2013: 1,963,798 units) and group profit before tax (2013: EUR7,913m) are both expected to rise significantly," the automaker said in a statement.
"After our record sales volume performance in the first half of the year, we are now targeting a significant increase in the number of vehicles delivered to customers in the current year and hence a new sales record of over 2m vehicles," Reithofer added.
Such significant sales growth would also have a positive impact on group profit before tax.
"We are aiming for a group profit before tax figure which will be significantly higher than in the previous year," Reithofer said.
The automotive segment wants to reach EBIT margin of 8 to 10% this year after achieving 9.4% in 2013.