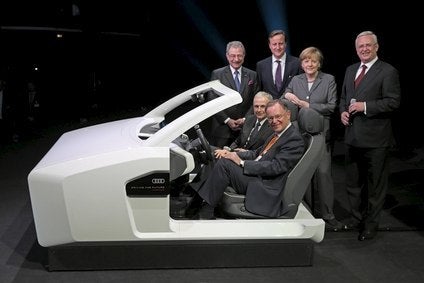 German prosecutors have launched an investigation into former Volkswagen chief executive Martin Winterkorn as a result of the diesel emissions-rigging scandal, according to multiple media reports on Monday (28 September).
Reuters said the investigation into Martin Winterkorn would focus on allegations of fraud in the sale of cars with manipulated emissions data. Winterkorn resigned last Wednesday after revelations in the US Volkswagen had installed software in its cars to disguise illegal emission levels.
The news came, a report in the UK's Guardian newspaper noted, as VW subsidiary Audi admitted 2.1m of its cars were fitted with the emissions-rigging software and a shareholder advisory group called for an overhaul of VW's governance. An estimated 1.42m Audi vehicles with EU5 engines are affected in western Europe, with 577,000 in Germany and almost 13,000 in the US, a spokesman for the Ingolstadt-based company told media. Affected model lines include the A1, A3, A4, A5, A6, TT, Q3 and Q5, he added.
VW had said last week about 11m of its cars worldwide were affected by the diesel emissions scandal. The latest announcement followed media reports earlier today VW had suspended the research and development chiefs at its VW, Audi and Porsche units.
The carmaker's supervisory board on Friday "recommended the immediate suspension of some employees", a statement said, adding: "This process is already under way" without providing names.
Audi, VW and Porsche have all declined to comment to media. In early Monday trading in Frankfurt, VW shares were down over 5% to EUR101.7 (GBP0.75).
According to the Guardian, shareholder advisory group Hermes EOS warned key investors appeared to have ignored the opportunity for a "real new beginning" at the group by appointing insiders to the roles of chief executive and chair-elect. On Friday, the chief executive of Porsche, Matthias Müller, was appointed VW group CEO, while Volkswagen's finance chief, Hans Dieter Pötsch, was appointed chairman elect.
"The supervisory board's choice of corporate insiders as CEO and chair-elect also raises some real doubts whether the key shareholders have recognised the need for fundamental reform and a real new beginning," Hermes EOS director Hans-Christoph Hirt said.
"The new CEO and the incoming chair should overhaul Volkswagen's corporate governance, including the composition and effectiveness of its supervisory board, and create a corporate culture which ensures that the trust of customers and society will never again be jeopardised in the way it has in the past."