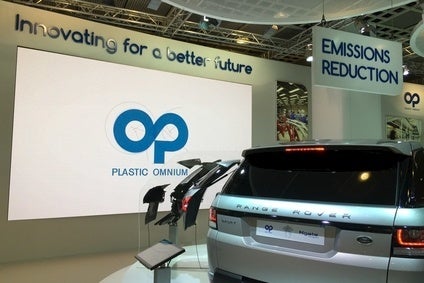 Plastic Omnium has moved swiftly to distance itself from the Volkswagen diesel emissions data furore, which some have speculated could see the German automaker landed with astonishing fines of up to US$18bn in the US alone.
The extraordinary situation engulfing Volkswagen has seen it order US dealers to block sales of some of its 2015 diesel cars after US government regulators found software it designed for the affected vehicles gave false emissions data.
So far, the German manufacturer says it will recall nearly 500,000 vehicles, while it notes some 11m cars are fitted with engines which had differences between laboratory testing and real life use.
The scale of the situation currently swirling around Volkswagen can be seen from a statement issued today (22 September), which notes discrepancies relate to 11m vehicles with Type EA 189 engines and which showed "noticeable deviation" between bench test results and actual road use.
For its part Plastic Omnium – which is the partner for 13 global automakers concerning anti-pollution systems for SCR (selective catalytic reduction) diesel engines – has issued a robust statement from Paris insisting none of its components is involved in the Volkswagen situation.
"Plastic Omnium is partnering with 13 worldwide car manufacturers for equipping diesel vehicles with depollution systems called SCR," said a statment from the French supplier. "Those systems are managed and monitored by the engine control unit (ECU) which is under the full responsibility of the car manufacturer.
"Plastic Omnium delivers, for this system, the urea tank and the dosing pump which sprays the urea quantity requested and validated by the car manufacturer in order to comply with environmental regulations in each country.
"Plastic Omnium does not deliver any depollution system on the Volkswagen Group vehicles concerned by the Environmental Protection Agency (EPA) report on 18 September, 2015.
Volkswagen insists it is working at "full speed" to clarify "irregularities" concerning software in diesel engines and is at pains to insist new vehicles from the Group with EU 6 diesel engines currently available in the European Union comply with legal requirements and environmental standards.
"The software in question does not affect handling, consumption or emissions," says a Volkswagen statement. "This gives clarity to customers and dealers.
"Volkswagen is working intensely to eliminate these deviations through technical measures," adds the manufacturer. "The company is therefore in contact with the relevant authorities and the German Federal Motor Transport Authority (KBA – Kraftfahrtbundesamt).
Yesterday, VW CEO, Martin Winterkorn said: "I personally am deeply sorry that we have broken the trust of our customers and the public."
Shares in VW on Monday fell 18.6% to close at EUR132.20, wiping around EUR14bn (US$15.6bn) off its market capitalisation.