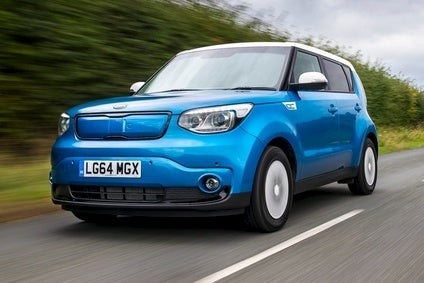 The year 2014 "has shown strong recovery in the automotive industry following the protracted six year downturn" and year on year growth for Kia is expected in 2015, the automaker's executive vice president and CEO of the international business division, Thomas Oh, said.
"Automotive industry demand in Europe has shown strong recovery in the first half of 2014, however, some markets experienced economic slowdown in the third quarter of 2014. For the first 10 months of 2014, the industry posted 5% growth compared to the same period last year thanks to aggressive new vehicle launches by automakers and pent-up customer demand.
"The Kia brand has made great strides in Europe this year and we expect to have sold around 358,000 Kia vehicles in western Europe by its close which would be a year on year increase of five per cent," Oh said in a statement.
He attributed Kia's success to "exciting new product and the brand's perception along with a strong dealer network".
"Strong performance has been driven by demand for Kia's recently launched vehicles such as the [redesigned] Soul and EV, improved quality perception of our entire product line and a strengthened dealer network across Europe. Moreover, our strategic European models produced at our plant in Slovakia, like the Cee'd and Sportage, have been strong sellers.
"We expect that full-year sales of the Soul EV in many European countries will contribute greatly to elevating our eco-friendly image across the region."
Oh predicted challenging times ahead for the automotive industry but believes Kia can contribute to "energise" the European car market.
"Due to the current economic environment, we expect European auto industry growth to fall to around 2.7% next year which will pose continued challenges to all automakers.
"Kia hopes to contribute to revitalising the European car market on the back of the rapidly improving quality of our product and services, enhanced brand image and our continued efforts aimed at developing and commercialising environmentally-friendly technologies.
"Kia's manufacturing facility in Slovakia, which is operating at maximum capacity, will continue to play an important role in supporting the overall health of the European market."
Oh believes Kia will maintain momentum into 2015 thanks to the upcoming launch of the third generation Sorento and enhanced versions of competitive smaller segment vehicles like the Rio and Picanto.
"As many economic uncertainties still exist throughout Europe, we are making a concerted effort to strengthen our market position by focusing on the sustainable growth of the business through continued investment in tackling emissions and fuel economy standards, upgrading our sales network, and formulating strategic plans including customer experience management programmes to better satisfy European customers.
"I believe that we will be able to maintain our steady growth momentum in Europe thanks to the upcoming launch of the [redesigned] Sorento which features vastly improved quality, along with enhanced versions of our competitive smaller segment vehicles like the Rio and Picanto."
Oh said Kia's core strategy for the future of the challenging Russian market is to enhance Kia's value proposition to Russian consumers by continuously introducing high quality products and services.
"Due to the downturn in oil prices in Russia and slump in consumer confidence due to the weakened rouble, industrial demand in Russia is expected to decrease by 4%-5% year on year in 2014 to 2.2 to 2.3m units.
"Kia is closely watching government policies concerning the local currency as well as industry stimulus policies such as the future fate of this year's scrappage programme as we strategically plan for continued success in Russia."