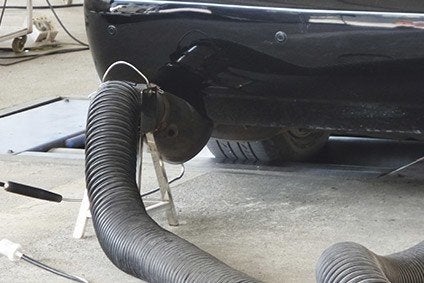 Germany's Federal Motor Transport Office (KBA) says it is extending its diesel emissions probe to include other overseas manufacturers as the fallout from the Volkswagen defeat device scandal continues to ripple across the globe.
Results of the KBA's investigations which will feature laboratory and real-world driving tests, which will occur at several locations across Germany, are expected in around a fortnight as the Transport Body also trains its sights on non-Volkswagen brands.
The KBA or Kraftfahrt-Bundesamt confirmed it is testing Volkswagen vehicles as well as a number of other unspecified foreign cars after the German Transport Minister tasked it with forensically examining the reasons behind the furore which could see up to 11m models having to be refitted with emissions-compliant devices.
"It is a very comprehensive investigation," a KBA spokesman told just-auto from the organisation's headquarters in Flensburg near the German border with Denmark. "We are doing both laboratory tests and real world driving tests. That is for VW and all the brands we are testing.
"This concerns vehicles of Germany and as well, foreign manufacturers. It is Volkswagen and other models of other manufacturers – we are looking to do a lot. We are the office to grant type approval…therefore we are the office to make sure products in service…are as the rules force them to be.
"The German Minister of Transport initiated this Commission [inquiry] [of] which the KBA is part."
The Volkswagen diesel emissions situation has exercised political minds in Germany right up to Chancellor Angela Merkel's office, while France has also announced it will randomly select 100 cars to ensure regulations are being observed.
"We are convinced we will find transparance to get vehicle users informed," added the KBA spokesman. The European Union gets informed, that is clear.
"Other EU States have type approval offices as well, so the information goes this way."
Volkswagen said an internal evaluation had established a service procedure is required for 5m vehicles from its Volkswagen passenger cars brand out of a total 11m Group cars worldwide.
These vehicles from certain models and model years, such as the sixth generation Golf, the seventh generation Passat or the first generation Tiguan, are fitted with Type EA 189 diesel engines.