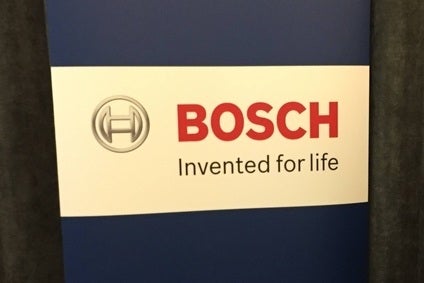 Bosch is remaining defiant in the current storm swirling around Volkswagen, insisting diesel technology is "indispensable" in achieving European emissions targets, but declines to discuss its business relationship with the German automaker.
Volkswagen is to recall nearly 500,000 vehicles in the US after "discrepancies" were found by the Environmental Protection Agency (EPA) involving diesel emissions testing, while speculation centres on VW being hit with fines of up to US$18bn.
Bosch told just-auto it could not "divulge any information about our business relationship with Volkswagen," due to obligations to its customer to observe confidentiality, but instead mounted a defiant case in favour of diesel.
For the Volkswagen models named, Bosch provided the common-rail injection system as well as the supply and dosing module for exhaust-gas treatment, but the component manufacturer insists these were delivered to the automaker's specifications.
The parts calibration and integration into complete vehicle systems, adds Bosch, is the responsibility of each carmaker.
But it is on the issue of diesel technology itself where the supplier is most robust, maintaining the present furore is "not fundamentally" about the fuel.
"On the contrary, in combustion-engine engineering, modern diesel technology is the best principle, resulting in the lowest pollutant emissions," said a Bosch statement sent to just-auto from Germany.
"Modern diesel powertrains are indispensable for achieving European greenhouse-gas emissions targets. The diesel means protection for both the environment and the consumer."
Bosch notes it develops injection and exhaust-gas treatment systems that can reduce emissions – also at high speeds and when accelerating hard. The supplier maintains there is potential to further reduce the CO2 emissions from diesel engines by as much as 10%
Bosch addes it believes there is "significant potential" for further reducing nitrogen-oxide emissions from diesel vehicles and cites its Denoxtronic allowing a reduction of up to 95% in conditions not covered by official driving cycle tests.
Bosch says Volkswagen has been its customer for decades, especially in the area of powertrain components.