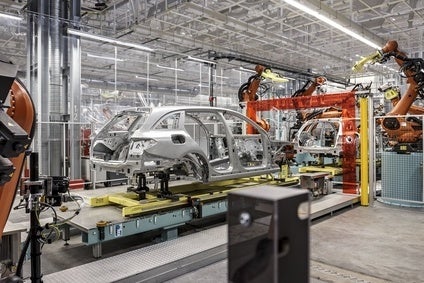 Daimler is continuing to back Berlin as a production location with the announcement of a EUR500m (US$545m) spend to develop the city's Mercedes-Benz plant into a high-tech component factory.
This is part of the transformation plan agreed between the company and its works council which will secure employment at the plant for the long term. The group's oldest production factory in operation is already an important part of the powertrain producing network for the Mercedes-Benz Cars unit.
In future, Berlin will be a "global centre of competence" for the production of the Camtronic engine management system.
Markus Schäfer, Mercedes-Benz manufacturing and supply chain management chief, said: "With the agreed transformation plan, we are developing the plant in Berlin into a high-tech location for producing components with technologies to reduce CO2 emissions."
The Berlin plant, established in 1902, employs 2,500 producing high precision transmission parts, camshaft adjusters and fuel systems, including the Camtronic valve timing system.
Ute Hass, chairwoman of the plant's works council, said: "The agreement sends a clear, positive signal to the workforce: the plant is participating in the industry's current growth and prospects for the future. This secures employment for the long term. Increasing the number of training positions and hiring another 15 people are a sign that the company will continue to back the Berlin location and its highly qualified employees in the future."
Another element of the transformation plan for plant is the agreement on safeguarding the supply of junior talent for the next three years. Starting in 2016, the number of vocational training positions at the location will be increased 20% to 24 a year. The training offered at Berlin includes the vocations of mechatronic technician and cutting machine operator.
Daimler is also spending EUR750m (US$834m) to modernise the Mercedes-Benz factory in Bremen to prepare for two new models. Although the company gave no details of the models, German press reports speculated one may be the new GLC Coupe, due for launch next year.
Daimler said the spend would secure the future of Bremen as the lead production site for the C class, its best-selling model. The C class is also built in East London, South Africa, Beijing, China, and in Vance, Alabama.
Mercedes builds three C-class variants in Bremen – the sedan, coupe and wagon, along with the E-class coupe and cabriolet plus the GLK SUV. The factory also produces the SL and SLK.
Last year 340,000 vehicles were built at Bremen making it the second biggest Mercedes plant globally after Sindelfingen. Daimler's spending at the plant will include the full networking of all processes and digital planning together with an improvement in cooperation between workers and robots, the company said, adding it would hire an additional 500 workers.