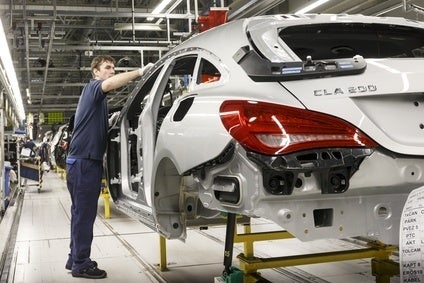 Daimler has booked record unit sales, revenue and earnings for the second quarter of 2015.
Second quarter vehicle sales rose 14% to 714,800 with the Cars division seeing growth of 20% to 500,700.
Group revenue increased 19% to EUR37.5bn and group EBIT by 20% to EUR3,718m. Operating EBIT rose 54% to EUR3,784m and net profit 8% to EUR2,372m.
"We achieved the targeted margin for Mercedes-Benz Cars in the first half of the year. In all other automotive divisions, we are about to achieve our margin targets," said chairman Dieter Zetsche.
Q2 group EBIT improvement was led by passenger car sales growth and efficiency programme. Daimler Trucks earnings grew but vans earnings were flat while buses earnings rose. Financial services earnings grew as a result of increased contract volume. Currency exchange rates also positively affected operating profit.
"We continue to grow profitably and are on the right track to fulfill our forecasts for fiscal year 2015," said finance chief Bodo Uebber. "Our efficiency programmes will be systematically continued."
Cars' revenue grew 19% to EUR21.1bn. EBIT of EUR2,227m was substantially higher than EUR1,409m in Q2 2014. Return on sales was 10.5% vs 7.9%.
Trucks unit sales of 125,100 vehicles were flat as lower unit volume in Latin America and Indonesia was offset by increases in the NAFTA region and western Europe.
Revenue rose 19% to EUR9.4bn and EBIT was a record EUR682m (EUR455m). Return on sales was 7.2% (5.7%).
Expenses for capacity expansions and staff cuts in Brazil affected EBIT.
Vans increased its unit sales by 7%, revenue rose 13% to EUR2.8bn but operating profit of EUR234m was slightly lower than EUR242m last year.
Outlook
Daimler said: "At the beginning of the third quarter, there are still good prospects that the world economy will continue its expansion. But global indicators of business sentiment suggest that the currently rather moderate growth rate will hardly change. Overall, Daimler expects global GDP to expand this year by only about 2.7% for full year 2015.
"Due to the continuation of rather moderate global growth rates and the pronounced market weakness of some major emerging economies, worldwide demand for cars is likely to rise by only about 2% according to current estimates."
"Demand in China, the world's biggest car market, should grow again significantly and make by far the biggest contribution to global growth. The US market should also show solid development."