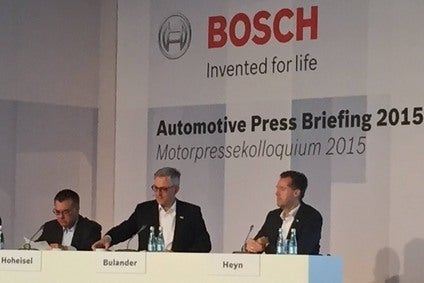 Bosch says it is evaluating in equal measure the impact of transportation needs as much as its technology on board future vehicles.
The global supplier defines its approach as: "Beyond the hood" and has renamed its Automotive Technology business sector as Mobility Solutions in order to address the increasing challenge of more urbanisation trends leading to choked transport networks.
"We are not only concerned about the technology under the hood – we are [also] concerned about road traffic," Bosch Mobility Solutions business sector chairman, Rolf Bulander told this week's Automotive Press Briefing at the supplier's German proving ground in Boxberg.
"In big cities we have to rethink personal mobility. We know we are a systems supplier and that is more than selling just brakes and engine systems. We deliver solutions to connect the car, other modes [of] transport and infrastructure.
"When it comes to car driving we see a congruence between societal and technological trends. For example fuel efficiency is in the interest of climate protection.
"But forecasts can be quite uncertain – a truth the economic and financial crisis clearly demonstrated once again a few years ago. It would be negligent to believe market developments will be linear."
The Mobility Solutions chairman developed his theme of addressing how suppliers fit into transport theory by noting between 5bn and 6bn people are forecast to live in cities, with countries such as China for example, planning around 170 new public transport systems in the guise of metros or light rail networks.
Such population pressure will inevitably lead to energy and climate becoming dominant issues, with pollutants remaining a dominant issue for politicians to legislate and suppliers to address.
Bosch also wants to see battery costs halve by 2020, at which point some 3m charging points will have been installed around the world, ten times as many as 2013.
The component producer estimates by 2025, 15% of all new vehicles will feature an electrified powertrain, but it remains convinced "well into the next decade," the combustion engine will remain the basis for efficient mobility.
"Bosch has the experience to turn an alternative powertrain into a success story," added Bulander.
"It's what we did with diesel and it's what we want to achieve with the electric powertrain too."