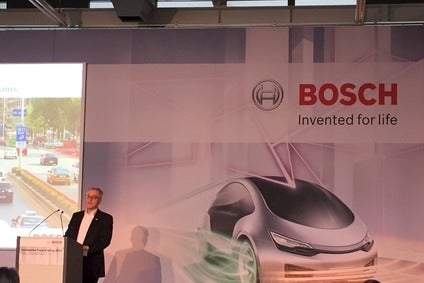 Bosch says electric-based vehicles based on renewable energy sources "make real sense" as debate continues to rage surrounding power generation for future mobility.
At present energy is sourced from a plethora of mixes including conventional fossil fuels, nuclear and renewable, but it is the latter sector, which offers the cleanest, if not necessarily the most reliable transmission option.
"Well to wheel, well it depends right now," Bosch Mobility Solutions chairman, Rolf Bulander told just-auto at the supplier's International Automotive Briefing in Boxberg, Germany.
"Our position is electrification based on renewable or electricity from renewable sources makes real sense. That is a major precondition – electricity from renewable sources will do the job.
"Either electricity generated by the wind or the sun [while] nuclear power that does not need CO2."
Bosch is assuming there will be 12.1m electric vehicles on the world's roads by 2020 representing 10% of the global car parc, with this number rising to a 15% share in 2025.
"[There are] 120m escooters already on Chinese roads [and] 20% of new vehicles in Japan are hybrids," said Bulander. "Electrification and connectivity will lift internal combustion engines to a new high level.
Bosch used its Germany briefing to widen the debate from it being one of a pure supplier: "Technology under the hood" – to that of transportation theory as megacities such as London and Mumbai choke with average traffic speeds of 19kmh and a startling 5kmh respectively.
"That is why Bosch as a company is looking beyond the hood," said Bulander. "We are a systems supplier – and that already encompasses much more than braking and injection systems.
"We supply systems for mobility as a whole – including solutions for connecting cars, other modes of transport and infrastructure. Against this backdrop, Bosch decided to rename its Automotive Technology business sector, Mobility Solutions.
"The new name says it all. We want to improve the efficiency not just of engines, but also of traffic in general, Only then can we truly see ourselves as a supplier of solutions for the mobility of the future."
Bosch Mobility Solutions generated sales of EUR33.3bn (US$37.3bn) last year, up 8.9%, with products such as its ESP electronic stability programme, gasoline injection and diesel direct injection systems each growing by 20%.
Clean diesel solutions experienced particularly strong growth in China.
The supplier's Mobility Solutions business centre has 126 manufacturing plants and 59 engineering sites around the world, employing 205,000 staff.