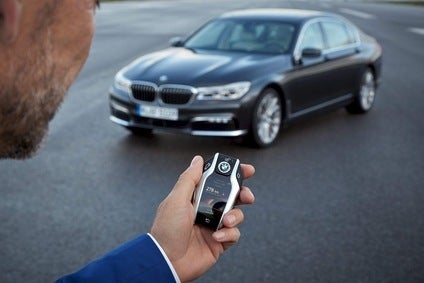 BMW Group booked record revenues and sales volumes in the second quarter of 2015 while profit before financial result (EBIT) for the first half beat EUR5bn for the first time.
Second-quarter revenues rose 20.2% to EUR23,935m helped by currency factors and a slight sales volume increase but higher personnel costs, increased expenditure on new product start-ups and a change in the model mix (generally involving a higher proportion of compact vehicles) were the main reasons for a 3% dip in the profit before financial result (EBIT) to EUR2,525m. Net profit dipped 1% to EUR1,749m.
Worldwide unit sales rose 7.5% to a record 573,079 units.
Group revenues for the first half rose 17.6% to EUR44,852m. EBIT rose 7.5% to EUR5,046m and net profit was 1.2% up at EUR3,265m. Car sales rose 7.8% to 1,099,748 units.
"We remain firmly on track, achieving our best figures to date in terms of sales volume, revenues and earnings," said BMW chairman Harald Krüger. "We remain committed to achieving an evenly balanced distribution of worldwide sales and maintaining the flexibility to react appropriately to developments on individual markets."
CFO Friedrich Eichiner commented on China: "For some time now, we have been drawing attention to the normalisation of the Chinese automobile market. In the medium and long term, however, we remain utterly convinced of its potential for growth, given the comparatively low rate of vehicle ownership, the country's well developed infrastructure and the strong affinity of the fast growing middle class for brands."
Second-quarter automotive revenues rose 17.0% to EUR21,650m but EBIT declined 15.8% to to EUR1,819m "reflecting," BMW said, "the challenging business conditions prevailing in individual markets, driven in particular by ever fiercer competition. The earnings performance was also influenced by changes in the model mix, with compact vehicles accounting for a higher proportion than one year earlier".
First half revenues were 15.6% higher at EUR40,543m and EBIT fell 3.4% to EUR3,613m.
BMW brand sales rose 4.9% to 480,465 units in the second quarter and by 5.2% to 932,041 in the second half.
Mini, with new hatchback models, recorded a 23.8% increase in unit volume to 91,626 units. Second half sales were up 25.8% to a record 165,938 units.
Rolls-Royce half year volume slipped 10.1% to 1,769 vehicles.
"In 2015 we intend to achieve solid growth and new record figures for sales volume and profit before tax," said Eichiner.
However, the scale of the increase during the forecast period is likely to be held down by fierce competition on automobile markets, rising personnel costs, continued high levels of upfront expenditure to safeguard business viability in future and upcoming challenges relating to the 'normalisation' of the Chinese market, the automaker said.
"A number of risks will also have to be faced, including the precarious state of the Russian market and macroeconomic uncertainties in Europe. The political and economic environment is also expected to remain volatile."
But BMW expects a boost in the current year from the launch of 15 new models and model revisions and also from the "forecast positive development of automobile markets around the world".
"Automotive segment revenues are set to grow significantly for the full year on the back of increased sales volume and favourable currency factors. We reaffirm our forecast of an EBIT margin within a target range of 8 to 10% for the automotive segment."